Saltwater Breeze
Trading Post Area Beach House With Quiet Neighborhood Pool And A Short Stroll to the Gulf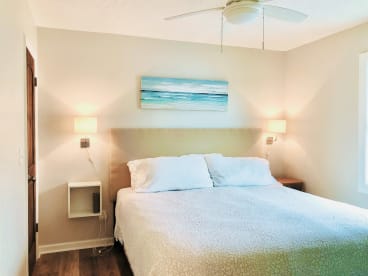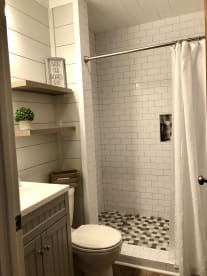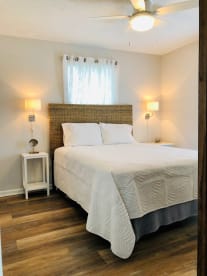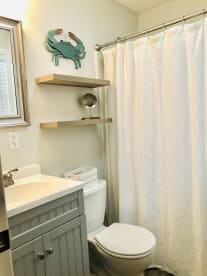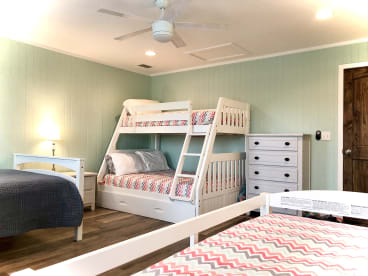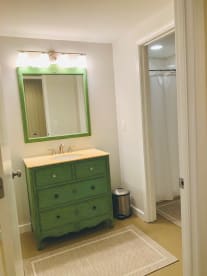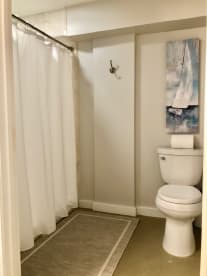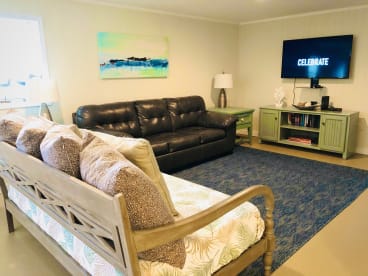 ---

My ECBYO listing
Description
Saltwater Breeze
is awaiting your arrival. Situated on the sought after North end of the Cape, we are only a 2 minute walk from the Trading Post. From the property, take a 2 minute stroll to the sugar-white, sandy beach access at the end of Cancun Drive. Our quiet Turtle Dunes Subdivision pool is only steps from the cottage, and across the cul-de-sac from the pool, you will find the private neighborhood beach access. Our 1,800 square foot, two-level home features a dine-in kitchen and open living room upstairs and a second den on the lower level. With king and queen en suite bedrooms plus a large bunk room on the main level, and the additional king bedroom on the lower level, there is space to sleep twelve. Each bedroom and both dens have smart televisions. The deck features a large dining table, and overlooks the back yard, with a hammock and fire pit for relaxing and plenty of room for the children to play.
SLEEPING QUARTERS:

Bedroom 1 (Upper Level): King with attached Full Bathroom
Bedroom 2 (Upper Level): Queen with attached Full Bathroom
Bedroom 3 (Lower Level): King with Full Bathroom in Hallway
Bedroom 4 (Upper Level): 1 Twin, 1 Full, 1 Twin over Full Bunk with 1 Twin Trundle
Downstairs Den: Twin Daybed 

 RATES

Scroll down or use links above to see AVAILABILITY and RENTAL RATES for each week of the year

$300 Damage Deposit, refundable if ALL checkout procedures are followed and there is NO damage to the home.
12% Local and State Tax is added to the rate and pet fee.
Pet Fee $300  ~  1 or 2 dogs, 35 lbs or less each are allowed if approved. Renters with pets will be required to check out at 9:00 am to allow for additonal cleaning. Please make us aware at the time of booking if you will have a pet. You will need to text a picture of the dog(s).
No additional cleaning, linen, or processing fee added.
Saltwater Breeze is located mid-way down the beautiful St. Joseph Peninsula, a which extends west between the Gulf of Mexico's gorgeous white beaches and the calm, shallow bay. Cape San Blas boasts quiet, pristine beaches, amazing sunsets, and wonderful fishing opportunities off the beach or in the bay. 

***SCAMMER ALERT***  We will only contact you from oldfloridarentals@gmail.com. If you receive communication from ANYONE other than Ashleigh regarding the booking of the home, it is a SCAM. Sadly, this is common with vacation rentals. Some go as far as creating a website and posting the pictures. Be careful. I HIGHLY recommend joining the Cape San Blas Rentals & Area Information page at www.facebook.com/groups/CSBRentals. Terri Goodpasture maintains a SAFE LIST to use when booking in the area to keep renters safe.

DINING
~SHORT DRIVE:
Indian Pass Raw Bar (2 locations)-Known for Oysters, but has a variety of Seafood in a Laid-back environment
Joe Mama's Pizza-Amazing Wood Fired Pizza and Fresh Salads (house dressing is amazing)
Provisions-Upscale Dining, Mostly Italian Cuisine
ConeHeads 8020--Seafood, Soup, Salad, Burgers, Sandwiches, Great for Take Out
Peppers-Delicious Mexican Restaurant with Indoor and Outdoor Dining

~WALKING DISTANCE (2 minute walk):
-St. Joe Seafood Market-Fresh and Fresh-Steamed to Order Seafood, Delicious Lunch Plates  **Call ahead to order THE BEST crab legs, fresh steamed. We highly recommend their slightly spicy house rub!
-Weber's Donuts-Famous cake donuts -Arrive Early and Bring Cash
-Cape Ice Cream and Coffee-Hand-dipped Ice Cream and Variety of Coffee Drinks
-Trading Post-Groceries, Pizza, AMAZING COOKIES, Fresh Beef, Charcoal and Firewood

~CHECKOUT PROCEDURES
KITCHEN
·        Please load and turn on the dishwasher.
·        Remove all food from the refrigerator, cabinets and pantry.  (Unopened items may be left for cleaners.)
BEDROOMS
·        Leave bed linens on the beds.
BATHROOMS
·        Leave soiled towels/washcloths in the bathrooms.
HOME
·        Return all furnishings to their original position.
               *Use bungee cord to strap Adirondack chairs to rail under back deck
·        Be sure both fire pit knob and the knob on gas tank are off, and please put cover on and secure with bungee cords.
·        Place ALL trash in bags and in the trash carts outside.  NO TRASH IS TO REMAIN IN THE HOME.  Be sure trash containers are beside the road in the open driveway area so they aren't missed by the truck. Pick up is Saturday and Monday.   
·        Check all drawers, closets, underneath beds, and bathrooms for personal items. There will be a $25 service charge plus shipping costs to return forgotten items.
·        Please be sure all indoor and outdoor lights are turned off.
·        Set Air Upstairs and Downstairs on Warm Days to COOL and 74, and on Cold days to HEAT 67.
·        Please lock all 5 exterior doors.
**Water balloons are NOT allowed on the property.
From/To
Nightly
Weekend
Weekly
Monthly
Min Nights
11/27/2021
12/04/2021
--
--
$1,600
--
12/04/2021
12/11/2021
--
--
$1,600
--
12/11/2021
12/18/2021
--
--
$1,600
--
12/18/2021
12/26/2021
$325
--
$2,285
--
4
12/26/2021
01/02/2022
--
--
$2,285
--
7
01/02/2022
01/08/2022
--
--
$1,450
--
6
01/08/2022
03/26/2022
--
--
$1,700
--
7
03/26/2022
04/02/2022
--
--
$2,800
--
7
04/02/2022
04/09/2022
--
--
$3,400
--
7
04/09/2022
04/16/2022
--
--
$2,800
--
7
04/16/2022
04/23/2022
--
--
$2,300
--
7
04/23/2022
04/30/2022
--
--
$2,300
--
7
04/30/2022
05/07/2022
--
--
$3,100
--
7
05/07/2022
05/14/2022
--
--
$3,100
--
7
05/14/2022
05/21/2022
--
--
$3,100
--
7
05/21/2022
05/25/2022
$440
--
--
--
4
06/07/2022
06/11/2022
$550
--
--
--
4
06/11/2022
08/13/2022
--
--
$3,850
--
7
Optional Pet Fee:
$300.00
(Optional)
We allow 1 or 2 dogs, weighing 35 pounds or less with a $300 pet fee. If approved to bring a dog, you will also have a 9:00 am checkout rather than 10:00 to allow the cleaners additional time to clean.
Excellent!!!
My family stayed in this vacation over spring break. Upon arrival this house was in excellent condition and very clean. There was plenty of room for our family of 10. The beach is just a short walk away. I recommend this house when you visit Cape San Blas, FL!
04/03/2021
Tranquility at Saltwater Breeze
We had a wonderful vacation staying at this condo! The tranquility was unmatched. It was a quick/easy walk to the beach and it felt we had our own private beach. The pool was wonderful on days that the waves were too much for beach time, and it was close enough I didn't mind my older kids going alone. The house was so charming! The tub was a relief with small babies to bathe and the downstairs was awesome for our teens. The condo was inviting and restful and I can't wait to visit again. Everything we needed to cook in the condo was there, we had wonderful dinners on the deck and enjoyed lots of local food and shopping. I would recommend bringing a baby gate for the stairs if you have an active infant it was something we forgot but would have been nice to have.
03/28/2021
Beautiful home !
We love the Cape and have been coming down for vacation for 12 years. This home is one of the best we've stayed at! The location is perfect, walking to the Trading Post made getting ice cream or donuts easy. The beach is a short walk and having a pool is a nice option. The kitchen has everything you need. The home is beautifully decorated with comfortable furniture and beds, with plenty of space for all.
05/15/2021
Wonderful family vacation
We had a wonderful week off with the family, down at Cape San Blas. We loved the home we stayed at. It was perfect size for a family of 4 which includes 2 kids under 4. There was plenty of space and the outdoor shower was a saving grace after a long day at the beach. The location to the beach was excellent. It was just a quick 2 minute walk to get to the beach. Definitely helpful when carrying a lot of beach toys, towels etc. We would happily stay again!
05/10/2021
Perfect Family Vacation Home!
This was our first trip to the Cape and definitely not our last! The home was comfortable, clean,roomy and made us feel like we were at home! Ashleigh was amazing! She goes above and beyond! The best homeowner we've rented from! Thank you for sharing your little slice of paradise with us, we can't wait till next time!
07/31/2021
Family Trip
We loved the house ! We had 8 adults and 3 kids with plenty of space. We walked to the trading post daily for coffee or ice cream and used the pool in the evenings when the kids wanted to. The beach was great like always and the kitchen was fully stocked. The owner responds quickly and was easy to work with:)
08/07/2021
Bedroom Setup
1 Queen Bed
2 King Beds
2 Full Beds
4 Twin Beds
Bunk Room
Dining Room
Eat in Counter
Eat in Kitchen
Bathroom
Bathtub
Linens & Towels
Private Bathroom
Shower/Tub Combo
Walk in Shower
Hairdryer
Bedroom Extras
Private Bathroom
Balcony/Patio off Master
Cooling Comfort
Ceiling Fans
Central Air Conditioning
Entertainment
Big Screen TV
Boating
Fishing
Golf
Kayaking
Swimming
Television
Smart T.V.
Netflix
General
Linens Included
No Smoking
Pets On Request
Home
Online Booking
Managed By Owner
Home Office
High Speed Internet Access
Wireless Internet Access
Kitchen
Washer/Dryer
Blender
Breakfast Bar
Can Opener
Coffee Maker
Dishes
Dishwasher
Fully Equipped Kitchen
Ice Maker
Microwave
Mixer
Oven
Pots and Pans
Refrigerator
Stove
Toaster
Utensils
Crock Pot
Outside Living
Community Pool
Deck
Outside Shower
Patio
Porch Furniture
Private Parking
Restaurants
Parking
Driveway
Parking for 4 cars
Boating
Boat Parking Nearby
Trailer Parking Nearby