Don't Worry Beach Happy
Private (heated) pool, GREAT ocean view, hot tub, fire pit, steps to the sand!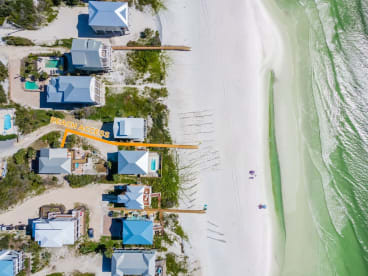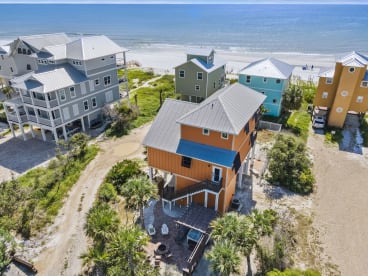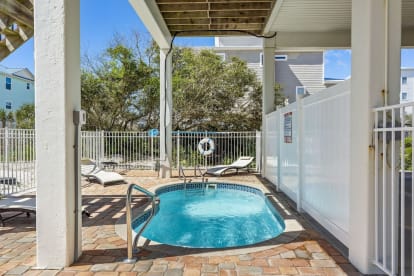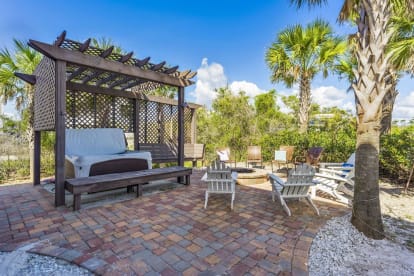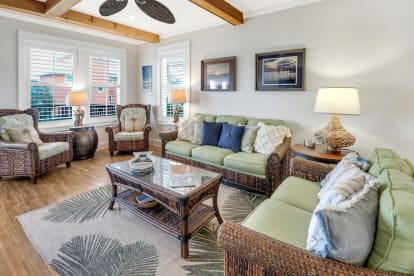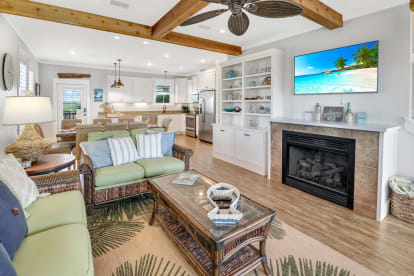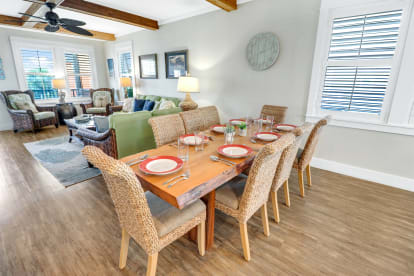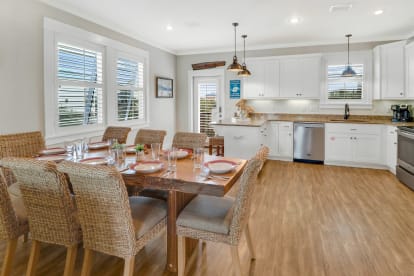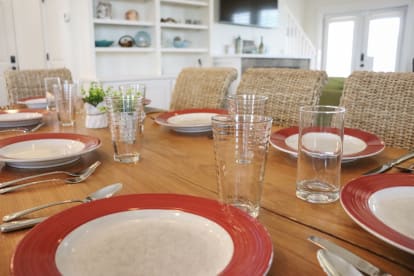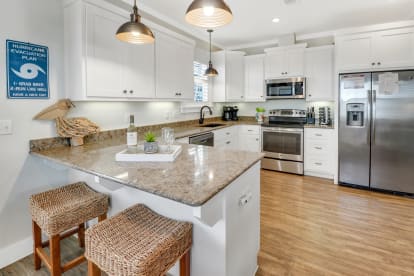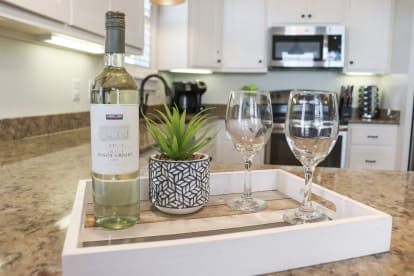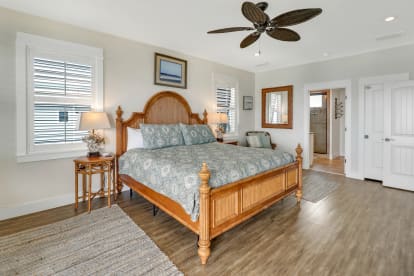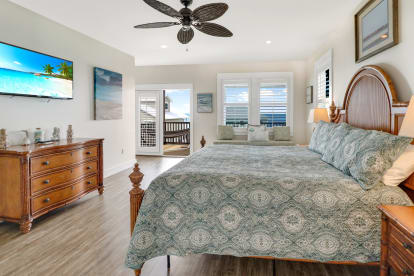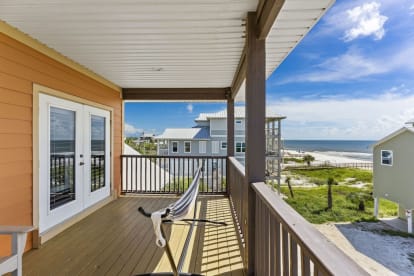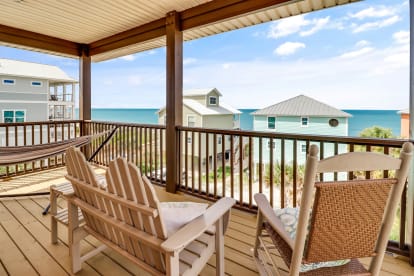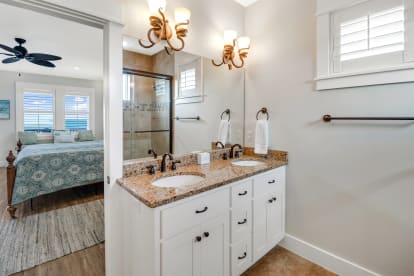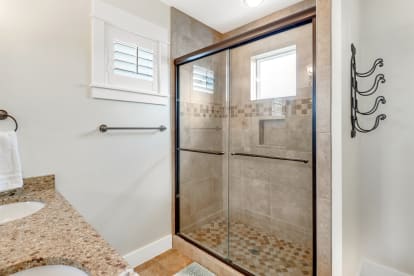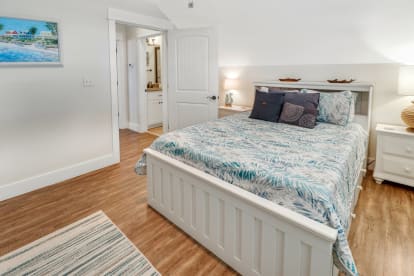 ---

My ECBYO listing
Description
Don't Worry Beach Happy is an immaculate 4 bedroom 3 bathroom beach home located just steps away from the beaches of North Cape San Blas, sitting 1st Tier but nearly beachfront, with breathtaking ocean views from two decks. A short boardwalk to the beach is directly in front of Don't Worry Beach Happy, just a few steps away. Inside you will find all of the comforts of home with a well stocked kitchen to cook your dinner feasts, a dining table that seats eight, a gas fireplace, and flat screen TV's in every bedroom.

Downstairs you have two bedrooms and a full bath. The Queen bedroom has beautiful ocean views, built in bookshelves, and a flat screen TV. The bunkbed room is a great retreat for the kids with a twin over full bunkbed with twin trundle that pulls out and a flat screen TV with a WII play system. As you travel upstairs you have a Queen guest room with flat screen TV and separate bathroom; and the King master suite with ensuite bathroom and deck overlooking the beautiful white sands and ocean views. Outside you will find two ocean view decks, a gas and charcoal grill, and an outdoor shower with hot and cold water. After a long day at the beach, you can retreat to your backyard oasis under the stars cooking hotdogs or smores on the fire pit and relaxing in your private NEW hot tub. Or lounge and relax and let the kids splash around in the ocean-side private pool (pool heat available for additional charge).

We also have a fenced in front yard for yard games or to let the dogs play. Two dogs are welcome with a non-refundable pet fee.

Don't Worry Beach Happy is in walking distance to The Trading Post, Cape Ice Cream, Weber's Donuts, Peachy's, and Scallop Cove (all within 0.4 miles)! We are also situated by the bike path if you enjoy biking!

Monthly Rentals available in December, January, and February. Please inquire.

?Facebook page: Vacationblissrentals

**Please note- after booking your reservation you will be required to electronically sign my rental agreement**

Floor Plan: Ground level – covered, paved parking area, private pool, enclosed outdoor shower and sitting area with hot tub and fire pit. 1st level – kitchen, dining and living room with beautiful gulf views, access to a furnished deck, TV and sleeper sofa. Bedroom 1 – duo bunk bed with trundle and TV; Bedroom 2- Queen bed and TV; full bath with shower/tub combo and laundry closet. 2nd level – Bedroom 3 – queen bed and TV; full bath with shower only, and Bedroom 4 – Gulf View master bedroom with king bed, TV, full bath with double vanities and shower only, and access to a gulf view deck.

Ring doorbell security camera
From/To
Nightly
Weekend
Weekly
Monthly
Min Nights
09/24/2023
09/29/2023
$475
--
--
--
7
12/28/2023
12/29/2023
$475
--
--
--
4
01/01/2024
01/01/2024
$475
--
--
--
4
08/10/2024
08/17/2024
$475
--
--
--
4
08/24/2024
08/30/2024
$475
--
--
--
4
09/07/2024
09/13/2024
$475
--
--
--
4
09/30/2023
10/09/2023
$450
--
--
--
3
12/22/2023
12/27/2023
$450
--
--
--
4
08/18/2024
08/23/2024
$450
--
--
--
4
10/10/2023
10/13/2023
$425
--
--
--
4
05/10/2024
05/17/2024
$425
--
--
--
4
10/14/2023
10/14/2023
$350
--
--
--
4
10/15/2023
10/15/2023
$370
--
--
--
3
10/19/2023
10/23/2023
$370
--
--
--
4
10/16/2023
10/18/2023
$345
--
--
--
3
10/24/2023
10/31/2023
$345
--
--
--
4
11/01/2023
11/02/2023
$305
--
--
--
4
11/05/2023
11/09/2023
$305
--
--
--
3
11/12/2023
11/16/2023
$305
--
--
--
4
11/26/2023
11/29/2023
$305
--
--
--
4
11/03/2023
11/04/2023
$320
--
--
--
4
11/10/2023
11/11/2023
$320
--
--
--
4
11/17/2023
11/17/2023
$320
--
--
--
4
11/18/2023
11/24/2023
$600
--
--
--
4
10/05/2024
10/11/2024
$600
--
--
--
4
11/25/2023
11/25/2023
$312
--
--
--
4
11/30/2023
12/02/2023
$312
--
--
--
4
12/08/2023
12/09/2023
$312
--
--
--
4
12/03/2023
12/06/2023
$300
--
--
--
4
12/10/2023
12/14/2023
$300
--
--
--
4
01/02/2024
01/11/2024
$300
--
--
--
4
01/16/2024
01/30/2024
$300
--
--
--
4
12/07/2023
12/07/2023
$315
--
--
--
4
12/15/2023
12/21/2023
$315
--
--
--
4
01/12/2024
01/12/2024
$315
--
--
--
4
12/30/2023
12/31/2023
$525
--
--
--
4
01/13/2024
01/15/2024
$325
--
--
--
4
01/31/2024
03/03/2024
$325
--
--
--
2
03/04/2024
03/09/2024
$325
--
--
--
4
03/10/2024
04/05/2024
$500
--
--
--
7
08/31/2024
09/06/2024
$500
--
--
--
4
09/14/2024
10/04/2024
$500
--
--
--
4
04/06/2024
04/11/2024
$400
--
--
--
4
10/12/2024
11/21/2024
$400
--
--
--
4
04/12/2024
04/26/2024
$395
--
--
--
4
04/27/2024
05/09/2024
$435
--
--
--
4
05/18/2024
05/24/2024
$700
--
--
--
5
08/03/2024
08/09/2024
$700
--
--
--
7
05/25/2024
06/28/2024
$800
--
--
--
7
07/06/2024
08/02/2024
$800
--
--
--
7
*2022/2023 rates are available!  Please inquire or visit my website at http://vacation-bliss.com
* Summer rentals are weekly, Saturday - Saturday
* Pet Fee - Dog's will be accepted with a non-refundable pet fee ($200 for the first dog and $100 for the second dog).  Dogs are not allowed on any furniture inside the home and must be kenelled when owners are not present.
* You may pay via credit card through my secure property manage system.
* Pool heat is not available if temperatures are below 55 degrees
Wonderful home, location, and outstanding vacation
We thoroughly enjoyed our stay in this lovely, peaceful home, just steps from the beach and across the street from the bay. We loved the comfy beds, the hot tub, fire pit, and more. There are several shops and restaurants (and ice cream!) within walking distance. The home was exceptionally clean and a perfect getaway for an instant vacation. We can't wait to come back! —Gina
03/29/2019
Perfectly decorated anticipating your every want.
Tastefully decorated beach house nestled in a wonderful beach setting. Large house with 4bedrooms, pullout couch and even bunk beds. Great pergola with hot tub and even a fire pit. Be sure to bring makings for s'mores. If you're tired of sun bathing , try your hand at fishing. Try it, we can't wait to go again.
05/14/2019
June 2019 Stay
Place was great! Had a blast! Loved the hot tub and fire pit! Kitchen was fully stocked. All of the cooking utensils, pots, and pans you could possibly need. Beds were very comfortable! A good time was had by all! Chris and Candice
06/08/2019
Perfect stay
This house is absolutely perfect. It's beautifully decorated, clean and has everything you could possible need in the kitchen. The bathrooms were clean and modern. The bedrooms were roomy with super comfy beds. Even though the house doesn't sit directly on the beach you still have a beautiful view and the walk to the beach is super close! The hot tub and fire pit were awesome as well. This house was just perfect for our family. We'll definitely be back!
07/13/2019
Perfect Place!
We've stayed in several different locations along the Cape and loved them all, but this one was our favorite! This house is in a great location. It was even closer to the beach than I thought it would be. Great views! The beach was basically empty, which was what I was looking for. I can't say enough nice things about the house to describe it. It was beautiful...just perfect! We hope to book Don't Worry Beach Happy for every future vacation!
07/31/2019
Don't Worry Beach Happy
This was our first time at Cape San Blas and we absolutely loved it! The beach house was perfect and I don't think we have ever stayed in a beach house that was stocked as well as this one. Very accommodating! The hot tub was perfect ! We ended up getting to come a few days earlier than planned and Ashley was great about working that out! We will be back and thank you so much for the get away we needed!
08/16/2019
Perfect for our family
Absolutely loved this property. It was perfect for our family of 4 and one small dog. The location is great and provided easy access to the beach. We enjoyed our stay here and it was a great vacation home for us. The kitchen was perfect for us and we used it daily. Bedrooms were spacious and everyone enjoyed their space. Would definitely stay here again.
09/28/2019
Don't Worry Beach Happy
Just returned from a month stay at this property. It is a beautifully decorated, totally immaculate property. Beds and linens first class. Location perfectly located between Scallop Cove one-stop-shop and The Trading Post for all beach supplies. Beach location amazing for easy access from newly built boardwalk and gorgeous sunset views. Can't forget the fire pit area and hot tub! Love meeting all the wonderful dogs, and people too.
01/04/2020
Absolutely Fabulous

This is a fabulous home to vacation. The house is immaculate and very clean. The house is impeccable. It was a home away from home. The location is perfect. Ashley is a delight to work with
05/30/2020
Don't Worry Beach Happy

Very nice house. Not beach front but virtually same as. nice views and steps from the beach. Refer it to friends and anyone
06/06/2020
Best Cup of Coffee Ever

Stayed June 20-27. Our group consisted of my wife and I, our oldest son and girlfriend both 26, my youngest son and girlfriend both 20, and my daughter and boyfriend 17 & 19. We found plenty of room in this spacious home. The three bathrooms one down and two up are very nice. The kitchen is well equipped with plenty of counter space. The master bedroom is a wonderful space with an ocean view balcony where you will drink the best cup of coffee ever. Pros: The pool and the hot tub were a huge hit with our kids. The short walk to the beach is not an inconvenience at all. Located conveniently only a short bike ride to either the Trading Post or to Scallop Bay. The beach is not crowded. Great shelling and fishing right in front of the boardwalk. Ashley is super to work with. Cons:
06/20/2020
Best Vacation Home Ever

This is the best vacation home we have ever rented. Great ocean views, very spacious, every utensil and appliance you could ever imagine. Very beautiful home. Mrs. Ashely was very accommodating to our needs. She really went above and beyond. We will definitely be renting again.
08/08/2020
Perfect Family Getaway

Perfect house! Very spacious for my family of 5 plus our dog. Gorgeous views from the master bedroom. The entire space is decorated nicely and the kids loved the pool and hot tub. The beach is gorgeous and the sunsets are the most beautiful we had ever seen. We are already planning on booking again for next summer. Ashley is great to work with. Can't wait to get back to "Don't Worry, Beach Happy"!
09/08/2020
Relaxing Week

We just visited Don't Worry Beach Happy and it was outstanding! Ashley was easy to book with and very responsive! We enjoyed the beautiful and spacious house, the hot tub, firepit, and of course the beach views! Our family was able to unwind and relax and even got a special snack delivery from Ashley mid week. We wiill definitely be vacationing at this location again in the future!!
10/03/2020
Paradise
VRBO Review

To say this place is beautiful is an understatement! The home is wonderful and the location is perfect!!! The owner was very accessible which is refreshing to say the least. My family and I will always remember this trip and would love to return!
11/04/2020
It was a long time coming
VRBO Review


This house was pretty close to perfect for a family vacation that was a long time coming. The house has an extensive view of the ocean, while being protected from the wind from the other houses around it. The beds were extremely comfortable and plenty of bathrooms to go around. The kitchen is perfectly appointed and there wasn't anything we wish we had. I couldn't tell you about the electronics because we never used them - too busy! The house is within walking distance to general stores and donuts! We needed a few more days to stay and take in everything the Cape had to offer.
03/06/2021
Perfect House
VRBO Review

This house is perfect! Very clean with great ocean view. Private pool is the perfect size. I would definitely stay here again!
03/14/2021
"Don't Worry Beach Happy" is the perfect place for a family vacation!!

VRBO Review
We absolutely loved our stay at this property! The house is beautiful, clean and has everything you would need for a family vacation!! It is in a perfect location and the beach is just steps away from the house. The owner is very responsive to messages and questions and check in was a breeze. The house has all the amenities you would want including beach chairs and towels. We had an amazing time and will definitely rent this property again!!


03/11/2021
Perfect house
VRBO Review


Our spring break was wonderful at Dont Worry Beach Happy. The house was gorgeous and had everything we needed. We used the pool and hot tub every day. The walk to the beach was less than going to the mailbox at home. The views of the ocean from both decks was beautiful. Our 11,12&13 yr old would walk to the ice cream shop in the evening. We did a mix of eating dinner at home and going into Port St Joe to enjoy a meal out. We even drove to PCB to hit the maze and play mini golf. We were reminded of how bad the traffic is ! Cape San Blas is quiet and beautiful . We wish we had gone for 2 weeks . Communication with manager was almost immediate, although we had no need to contact during the stay.
03/31/2021
Wonderful trip. Great house!
VRBO Review


We had a wonderful week. House was very clean, comfortable and in a great location. The house had everything we needed. Very short walk to the beach. Enjoyed sitting out on the top porch and at the fire pit. Not crowded and beach was clean! Ashley was always quick to respond and helped us with anything we needed. Definitely hope to return.
04/16/2021
Awesome

This property and its manager, Ashley, are simply wonderful. You are steps from the beach! Perfect for small kids who might still need a mid day nap. We are already looking for dates to rent next year!
05/08/2021
Beautiful Vacation home

We enjoyed our vacation at this beautiful beach house. Great views of the beach and beautiful weather
04/25/2021
Excellent location and owners

The owner is amazingly responsive and helpful. We all enjoyed the beautiful home, the ease of access to the beach, the location on the cape to conveniences, a well-supplied home from kitchen to beach items to beds. You just need to bring yourself, clothing, and food!
06/05/2021
What a great house! Very short walk to the beach. The entire family loved the house.
VRBO Review

Ashley was the best! Quick responses to our questions! Thank you for a great stay!
05/22/2021
Stayed July 17-24
VRBO Review

Wonderful beach home in a great location! My family and I really enjoyed our stay and highly recommended this home. The owner, Ashley, was wonderful and went above and beyond to make sure our stay was perfect and memorable. Would definitely love to stay again on our next visit to the Cape!
07/17/2021
Terrific!
VRBO Review


We LOVED our stay at "Don't worry, Beach happy". The house was perfect and had everything we needed, the hot tub, pool and outdoor fireplace were amazing! We would definitely recommend this house to anyone looking to stay on the Cape!
10/08/2021
Cape San Blas
VRBO Review


Nice Place!
10/03/2021
Amazing vacation house for family and pets
VRBO Review


This was the perfect beach house for our family! It was clean and comfortable. Only steps away from the beach. We rented bikes to ride on the bike trail to donuts and ice cream. What a dream vacation!
09/11/2021
Wonderful!

We had our whole family stay, the house was wonderful! Short walk to the beach, the waves and ocean are just amazing also! We used the hot tub and pool. All kept very clean! We definitely would recommend you stay here! So relaxing!
09/07/2022
Great house in a great location!!

Just steps to the beach, everything you need in the kitchen, comfortable beds, plenty of beach chairs and enough space for my family of 10. Wonderful vacation!
08/15/2022
Fabulous!

Don't Worry Beach Happy was everything it claims to be. The house was fully stocked with everything you need, and then some. The walk to the beach was short and we managed it well with 2 small children. Ashley, the property owner/manager was absolutely great to work with. I would highly recommend this property.
06/19/2022
The best place to make memories and have great family time!

"Don't Worry Beach Happy" was beyond perfect. Our family of 9 including twin 5 yr olds and a 3 month old plus 2 of our friends that became family got to enjoy Cape San Blas at such a wonderful family-friendly home. All the beds were so comfortable. The kitchen has everything you need to prepare meals. We enjoyed the beach that was so easy to get to, the pool that is shaded for our young ones to enjoy after a long time on the beach, the hot tub to relax and the firepit for s'mores. We were able to have all our evening meals at the house. So no loading up to go wait for a meal. It is in perfect location to get to Scallop Cove or the Trading place and also fresh seafood to buy right next to the trading post. We will be returning guests next year. If not sooner. Ashley was so attentive and helpful. Our family was blessed to be able to have a week in this home.
06/09/2022
Great location, comfortable & relaxing

Don't Worry Beach Happy accommodated my family very well. We liked having the two bedrooms upstairs and two on the main level. The outside space and under deck pool was very inviting and the home is in a great location on Cape San Blas. We enjoyed kayaking in the bay and the launch area is just a few minutes away.
Thank you for a wonderful stay.
05/19/2022
Amenities Galore!

This property is beautiful and in a perfect location! Our family enjoyed the shortest walk to the beach, followed by sunning on the main deck, lounging in the pool, and nighttime dips in the hot tub. The main stores/ice cream/Webers donuts (get the Croissants, they are amazing), and fresh seafood are a .40 mile walk away from the property. Ashley, the owner, is responsive and helpful (although everything was perfect during the stay, we didn't need her for anything other than check-in). We look forward to returning!
04/21/2022
Wonderful Vacation Home

We really enjoyed our week at Don't Worry Beach Happy. The house was spacious and clean and was perfect for our family and friends family. We had 4 kids with us aged 5, 5, 8 and 8 and they lived the bunk bed, pool and hot tub. We also enjoyed the hot tub! The short walk to the beach was perfect. The kitchen is very well stocked with appliances and utensils. We would definitely recommend staying here if you're headed to Cap San Blas.
04/14/2022
Great Experience

This property checked all the boxes for our family trip. Clean and comfortable accommodations, easy access to a beautiful beach, hot tub, pool, and fire pit. The property owner was very responsive to all of our questions. Highly recommend!
04/03/2022
Everything you need was at your fingertips, getting older, stairs were good exercise!

No issues, people were very easy to work with!
03/28/2022
Another beautiful week on the Cape

We had a wonderful time at Don't Worry Beach Happy. Great amenities for all of the family. A few issues were delt with Ashley who was quick to respond.
04/27/2022
Great place close to the beach, pet friendly with fire pit, hot tub,pool and fenced in area for pet.

Highly recommend. Very clean and comfortable.
03/20/2022
Great stay, amazing owner

The house was great! We loved the hot tub and the gated porch and back yard (for our pup). We stayed for our honeymoon.. we definitely want to return with the whole family. The owner was the best and responds quickly to any messages.
01/24/2022
Wonderful Stay

House and location were amazing! Perfect getaway for our family and dog. This is the place to go if you just want to relax.
01/24/2022
Great place, easy access to the beach, wonderful hot tub!
03/27/2021
Bedroom Setup
1 Bunk Bed
1 King Bed
2 Queen Beds
Trundle Bed
1 Sofa Bed
Barbecue - Grills
Private Gas Grill
Charcoal Grill
Bathroom
Bathtub
Linens & Towels
Private Bathroom
Shower/Tub Combo
Walk in Shower
Hairdryer
Bedroom Extras
Private Bathroom
Walk-in Closet
Balcony/Patio off Master
Cooling Comfort
Ceiling Fans
Central Air Conditioning
Entertainment
Cable TV
DVD Library
DVD Player
Fishing
Gaming Consoles
Snorkling
Swimming
Television
TV/DVD
Smart T.V.
Netflix
General
Linens Included
Pets On Request
Pet Friendly
Smoking outside only
Home
Pack and Play
High Chairs
Online Booking
Managed By Owner
Kitchen
Washer/Dryer
Blender
Breakfast Bar
Can Opener
Coffee Maker
Dishes
Dishwasher
Disposal
Fully Equipped Kitchen
Garbage Compactor
Ironing Board
Microwave
Mixer
Oven
Pots and Pans
Refrigerator
Stove
Toaster
Utensils
Water Filter
Crock Pot
Keurig
Outside Living
Deck
Outside Shower
Porch Furniture
Private Parking
Private Pool
Gulf/Ocean View
Balcony
View (Water)
Beachfront
Hot Tub/Heated Spa
Parking
Covered
Parking for 4 cars
Amenities
Air conditioning
Dryer
Fireplace
Hair dryer
Heating
Internet
Iron board
Linens
Living room
Telephone
Towels
Washer
Parking
Wireless broadband
Free wifi
Entertainment
Dvd
Games
Satellite or cable
Television
Video library
Smart tv
Video games
Kitchen
Dining coffeemaker
Dining dishes utensils
Dining dishwasher
Dining kitchen
Dining microwave
Dining oven
Dining refrigerator
Dining stove
Dining toaster
Dining area
Dining dining table
Outdoor
Balcony
Deck patio uncovered
Grill
Fenced yard
Fenced pool
Pool
Spa heated pool
Spa hot tub
Spa private pool
Safety Features
Detector
Extinguisher
Lighting
Lock
Monoxide detector