Amelia By The Bay
Book your 2021 Vacation Now! We have a 3 payment plan to make it easy! Cape San Blas! Pool, Dock!!!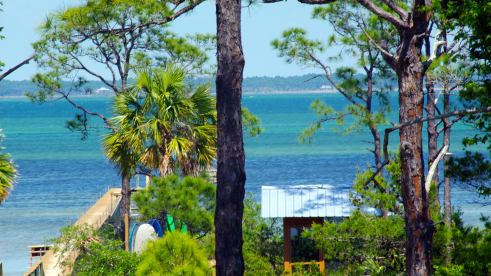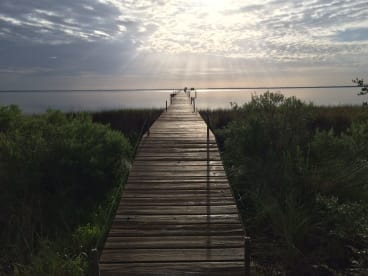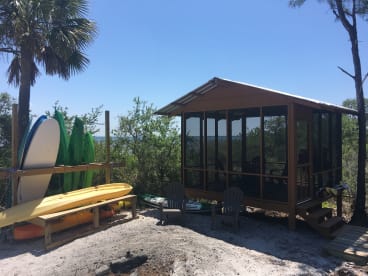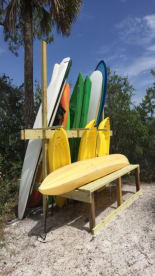 ---

My ECBYO listing
Description
NEW LISTING:   Amelia By The Bay is more than just a home - it is a large, private property with a 500' dock, screen house, and 5 bedroom 4 bath home located at the desirable north end of the Cape (NOTE: Dock is shared with one other home). Amelia is Pet Friendly (well mannered pets). 
This destination has something for everyone in the family. A 500' Dock (bring your boat), we have a large outdoor area with heated pool (seasonal additional fee), 6 person hot tub, outdoor tv, dinning table, and fire pit and screen house at the bay, Kayaks and SUP's included in rental, and the Gulf of Mexico is just across the street! This is a large property with loads of parking under the home and around it. Plenty of room for you to bring your boat or cart. Conviently located on the desirable north end of the Cape. Our location is also great for fishing, crabbing (crab trap included in rental)  and scalloping (in season). Great area for wildlife and marine life viewing. Great location for walking, jogging or biking. Our home is directly on the Logger Head Biking Trail!
Book Online and for more information, go to www.ameliabythebay. 
Everything is basically new for 2019 after being replaced due to hurricane Michael!


RV spot now available for additional weekly fee. This spot is not rented seperately from the home, but can be added during booking to allow additional family or friends with an RV to join you during your stay. Call in advance for details about the RV spot to assure you have the proper length electrical, water and sewer for the location. Basics : 50 amp Service, 3" sewer connection and hose bib.

Great for families with children from toddlers through teens.

Parents:  Stop stressing on the Gulf side with your small children and experience the calm, shallow waters of St. Joseph Bay.

Bring your boat - 500' dock with fish-cleaning sink, crab trap at the dock.

Screen house right on bay with power, electricity, and water

Paddle boards, 7 kayaks come with property (no need to rent them)

Home updated with attention to details that make your stay better than expected in a rental home.

Families LOVE this property

House built on pilings but is a single floor, split bedroom plan

Quality bedding and comfortable mattresses. (King, Queen, Full and Single)

Best of both worlds:  Bay experience AND short walk to the beach along the "Logger Head Bike and jogging trail (approx 700yds) to Cape Palms Park.

Plenty of beach towels provided in addition to all standard linens

Fish, snorkel, kayak, paddle board and scallop (in season)

Pet-friendly for well mannered pets only ($100 pet fee)

Charming decor, clean, well-provisioned kitchen

Bay side fire pit
From/To
Nightly
Weekend
Weekly
Monthly
Min Nights
08/29/2020
10/09/2020
--
--
$2,075
--
7
10/10/2020
10/23/2020
--
--
$1,775
--
7
10/24/2020
11/20/2020
--
--
$1,449
--
7
11/27/2020
11/27/2020
--
--
$2,125
--
7
11/28/2020
12/18/2020
--
--
$1,449
--
7
12/19/2020
12/25/2020
--
--
$2,225
--
7
12/26/2020
01/01/2021
--
--
$2,225
--
7
01/02/2021
03/05/2021
$120
--
--
--
30
03/06/2021
04/16/2021
--
--
$2,995
--
7
04/17/2021
05/21/2021
--
--
$2,695
--
7
05/22/2021
08/06/2021
--
--
$4,500
--
7
08/07/2021
08/27/2021
--
--
$2,995
--
7
08/28/2021
10/08/2021
--
--
$2,495
--
7
10/09/2021
10/22/2021
--
--
$2,295
--
7
10/23/2021
11/19/2021
--
--
$1,995
--
7
11/20/2021
11/26/2021
--
--
$2,595
--
7
11/27/2021
12/17/2021
--
--
$1,995
--
7
12/17/2021
12/24/2021
--
--
$2,695
--
7
12/25/2021
12/31/2021
--
--
$2,695
--
7
Well Mannered Pet Fee:
$100.00
(Optional)
RV Rental Spot - Only if rented with Home:
$350.00
(Optional)
Pool Heat:
$200.00
(Optional)
Refundable Damage Deposit:
$250.00
Amelia By The Bay Policies
Excellent!!

Amelia is absolutely one of the best homes and locations on Cape San Blas if not the Forgotten Coast! Easy access to both the Gulf and St. Joe Bay. The home is spacious, clean, private and close to everything you'll need to have a fun vacation. Steve and Susan are very accommodating and committed to making your stay a great one. Amelia is definitely worth checking out!
01/01/2018
.GREAT.

Had a great stay. Nicely equipped and clean. A Little shade on the back deck would be nice, but not required. We will definitely consider booking for next year. We really appreciate dog friendly and so did our two labs. We wore them out.
09/15/2018
Peaceful and Relaxing!

This rental house is so beautiful with lots to do. It feels like home. They have everything you need to enjoy your time. Enjoy your time kayaking, stand up paddle board, or late night bonfire on the Bay. You can go crabbing and fishing of the Pier. The beach is only a walk away to enjoy with the family, or a romantic walk during the sunset! I am already planning on another trip. Thank yall for a wonderful time!!
10/11/2017
Week in Late October 2017

Everyone in our group children and adults loved the stay at Amelia. The public access to the beach worked out very well and was more convenient than I expected. i loved the long dock and screen porch that is located right by the bay. I was able to stow all my fishing gear there instead of lugging it from the house. The kayaks and sup's were lots of fun. We hope to plan another stay here in the future... Randy from Tennessee
10/20/2017
Great clean nicely decorated home

We stayed at Amelia By the Bay the last of October through the first of November and the weather was in the 70's five of the seven days we were there. The bay was beautiful and clear. Scully's Slow Country Boil is just a block away. The public beach access is just 3/10ths of a mile away. It is dog friendly (must keep your pet on a leash) and our little Cairn loved it. We will definitely consider going back.
10/27/2017
Great Time
Susan and Steve's home is located just a short walk to the bay and across the street from the beach. They have thought of every detail in making their home comfortable and accommodating. The whole area is full of wildlife and we saw bald eagles from the deck and many birds by the bay. The sunrises and sunset were amazing and we enjoyed many quiet moments on the pier. Port St. Joe is a quiet little town. We hope to return!
11/03/2017
Pleasant, clean, and well stocked home on the Bay

We had a great time at Amelia on the Bay! The owners were very helpful and checked in on us via phone message once we arrived to make sure everything was going well and if we needed anything. The home was clean, well stocked, and also had a new hot tub! We really enjoyed the use of the paddleboards, kayaks, and crab traps. I recommend to anyone seeking a quiet relaxing vacation!
03/24/2018
The Perfect Little Getaway

I don't think we could have found a better spot! It was nice to have access to both the bay and the beach. The beach is an easy walk on foot that took us no time to get there. Also, the pier on the bayside is gorgeous! We lit a fire out there on the fire pit and overall I think I might like the bay side a little more than the beach, but we loved having access to both! The house itself is kept well and was clean when we arrived. Everyone slept comfortably and the internet worked fairly well throughout the week. Not much more we could have asked for! Will definitely be coming back!
03/31/2018
We Love Amelia By The Bay!

There is so much to love about Amelia By The Bay. This was our third stay and we will definitely return. The home is attractive, comfortable and well stocked with anything you can think of to make your stay enjoyable. The store and fish market about a mile away have about anything you could need. We have visited here with extended family with small children and the house is set up well for that too. We love the dock for fishing, and a relaxing place to sit at the end of a day of visiting the beach. The front and back decks also offer a relaxing seat either in the sun or the shade, often eagles and ospreys fly over head. The St. Joseph Peninsula State Park, located nearby at the end of the cape, is a treasure we just love visiting. Experiencing the beauty of Cape San Blas with less of the hustle and bustle of more commercial locations along the Gulf Coast is the reason we love staying at Amelia By The Bay. Steve and Susan couldn't be better hosts to ensure a perfect vacation. We feel pretty lucky to have found this gem and can hardly wait to return!
04/28/2018
Wonderful place to relax.

This was our first visit to Amelia and I have to say it surpassed everything we thought from the photos on the website. It was peaceful, we loved the bay side and the Gulf side which was only a short walk away. Absolutely loved my first experience kayaking in the bay. The shallow water was perfect for our fist time-- no worries! It is a very quiet place but has sidewalks down the road for biking or walking the dog (yep, she was welcome there). Groceries were not too far away for an emergency run with larger stores in a nearby town. There were a few places to eat close by for when we didn't want to cook too. The rooms are large with plenty of space to spread out in the common areas. The decks were great for outdoor cooking and watching the sunrise and sunsets. So was the hot-tub! Overall, this was a lovely get-away and we will return!
04/06/2018
Our Stay at Amelia By The Bay

Just came back from a wonderful vacation at Amelia by the bay. The owners are extremely friendly & always a text away if you have a question. The house is fully equipped with almost everything you need at the beach from beach chairs, wagon, beach toys, kayaks, paddle boards & much more. The screen in porch by the dock is a nice added feature. We set out crab traps at the dock (that came w the house) and had a bunch of crabs & hermit crabs. Raw chicken seemed to work the best in the crab traps.
My husband was extremely happy that he was able to dock his 24ft center console hydrasport at the dock. we had to watch the tide chart on a daily basis as the tide does get very low. If you take a boat make sure you pay attention to the tide chart!! The guys went deep sea fishing & caught king mackerel, sharks & mahi-mahi!
We loved the house & hope to visit again!

The
Hitchcock family
06/16/2018
Wonderful location to beach and bay

The games, puzzles, and hot tub were a real hit when it started raining. The proximity to the bay and beach were great. We will definitely be coming back.
06/30/2018
Amelia By The Bay


What an amazing stay! Great location by the beach and the bay..... best of both worlds! The owners provided great service! Lots of extra amenities.... paddle boards, kayaks, hot tub!! The dock was amazing as well! The perfect place to relax and watch the sunsets! I can't wait to go back!


04/21/2018
Stay at Amelia By The Bay

On previous trips to CSB we stayed on the gulf side and was looking to see what the Bay side had to offer. Wow, what a surprise. The Dock is a must and the calm crystal clear waters on the bay will keep you occupied for hours. The screen house at the bay is a must of late afternoons. We also spent several nights at the fire pit looking up at the stars. We saw eagles fly over several times during our stay. The hot tub is a great addition to cool off and take in the beauty of the surrounding area. We also enjoyed using the crab traps, kayaks and made our first attempts at paddle boarding! Can't wait to return next year!!!!
05/26/2018
Peaceful

This is a great property. Very peaceful. Kids loved it.
06/29/2019
Best of the Beach and the Bay!

The pictures in this case are only half as amazing as this place is in reality!! It truly is the perfect spots of both worlds. As a family of 3 teen boys and two dogs it couldn't have been anymore perfect! The boys ages 15, 13 and 13 has so much fun with all the activities right there they forgot how mad there were at me when they realized the pool was our very own private oasis and there wouldn't be "friends" (girls in bikinis) to meet!!! The pool and hot tub area have a covered area with a huge TV and table for movies or music. The husband loved this! The house is clean, plenty of comfy sitting areas, soft sheets and a covered deck with a great view of the bay! Everyday we found more surprises that the owners have for you to use during your stay! The screened hut and fire pit at the dock are perfect. We watched a storm roll in after a day of paddleboards from this spot and were treated with a double rainbow over the bay! Speechless beauty! The walk over to the beach from the house is very short! Honestly there is so little traffic on this beach spot you can be alone!! Like really alone on a beach with your kids and your pups! The owners have a closet with everything: beach toys, chairs, fishing gear... Now it isn't in a big town. The Piggly Wiggly is the closest grocery (and they don't sell alcohol...I know I'm still confused on that) however there are places right besides it that sell all your adult beverages. If you plan to eat out remember this is a place that moves at a much slower pace and relax. Overall it was my crew's favorite beach trip! We are almost afraid to tell everyone how perfect it is here. There is so much to do, it is a very physical vacation spot and also relaxing. Steven and Susan were great at answering questions and truly want everyone to have an amazing time in their home. I read reviews and suggestions before picking their place and they had added or updated everything suggested. It really is the best of beach and bay. Thank you both!
06/22/2019
Vacation home with the best of both worlds

Amelia By the Bay has a beautiful view of the bay side and is in walking distance to the beach. We enjoyed spending most of our week in the bay kayaking and snorkeling. While snorkeling, we followed around puffer fish and found some starfish, which we had never done before! The hot tub was nice in the afternoon once it cooled down. The screen house provided us with some shade down at the bay and a place to hang out. We also roasted marshmallows and made smores around the fire pit. On our last day, we spent some time at the state park, which has a beautiful beach. This is one of our favorite places to stay and we will be looking forward to our stay again next year!
08/04/2018
Amazing Week

This by far has been the best family vacation we have had. The location was perfect and with the added bonus of the pool and hot tube, we spent a great deal more time just hanging out at the house than we have in the past. The kids loved being able to explore snorkeling in the bay or just cruising in the kayak. The property met all of our needs for the week, and then some. Steve & Susan were great host with quick response to all our questions. Only three days back home and we are already planning our trip for next year.
07/20/2019
Relaxing Retreat!

We really enjoyed relaxing in the pool. The close proximity to the bay, beach, and fresh seafood was wonderful.
08/10/2019
Late Fall getaway

Great house and location. Close to everything. Great amenities and bay front location. House comes with everything you would need.
11/09/2019
Amelia is AMAZING!

5 Star all the way! The house is well stocked! Beach towels, beach chairs, kayaks, tv's everywhere, kitchen is full of any pot or pan you'd need. We were back and fourth from the hot tub to the pool every day. Walking to the doc and enjoying the bay with gulf beach across the road was so awesome! We put our boat in at the state park, paid $11 to get in. It was great being able to hop on the boat anytime and clean fish at the doc. We caught red fish and black drum, puffer fish and trout... saw some sea turtles, sting rays, horseshoe crabs, fiddler crabs all over Pig Island and of course hermit crabs. We enjoyed roasting marshmallows and hot dogs, built a fire on the beach one night and used the fire pit at Amelia almost every night. Owners are so hospitable and have done a fantastic job of making sure guests have everything you need! It was a plus having a refrigerator downstairs in the storage room and a new refrigerator/ appliances upstairs. Lovely views of the bay from the living room, kitchen and deck out back and large deck on the front facing the gulf. It was hard for us to leave Amelia it really feels like home and we look forward to our next trip there. Thanks Susan and Steve for everything!
11/23/2019
Bedroom Setup
1 Double Bed
2 King Beds
2 Queen Beds
1 Full Bed
Dining Room
Dining Table
Eat in Counter
Formal Dining Room
Barbecue - Grills
Private BBQ
Private Gas Grill
Gas Grill
Bathroom
Bathtub
Linens & Towels
Private Bathroom
Shower/Tub Combo
Walk in Shower
Hairdryer
Bedroom Extras
Private Bathroom
Walk-in Closet
Alarm Clock
Cooling Comfort
Ceiling Fans
Central Air Conditioning
Entertainment
Big Screen TV
Boating
Cable TV
DVD Library
DVD Player
Fishing
Golf
Jet Ski
Kayaking
Scuba
Snorkling
Stereo
Swimming
Television
TV/DVD
Video Library
DVD/VCR
Smart T.V.
Bluetooth Speaker
Netflix
Games
Board Games
Reading Library
General
Linens Included
No Smoking
Pets On Request
Pet Friendly
Smoking outside only
Cell Phone
Vacuum
Home
Pack and Play
High Chairs
Online Booking
Managed By Owner
Home Office
High Speed Internet Access
Wireless Internet Access
Kitchen
Washer/Dryer
Blender
Breakfast Bar
Can Opener
Coffee Maker
Dishes
Dishwasher
Fully Equipped Kitchen
Garbage Compactor
Ice Maker
Ironing Board
Microwave
Mixer
Oven
Pots and Pans
Refrigerator
Stove
Toaster
Utensils
Water Filter
Crock Pot
Outside Living
BBQ Grill
Deck
Outside Shower
Patio
Porch
Porch Furniture
Private Parking
Private Pool
Restaurants
Water Park & Wildlife Viewing
Balcony
Beach Chairs Provided
View (Water)
Waterfront
Hot Tub/Heated Spa
Parking
Covered
Driveway
Parking Available
Parking for 5 cars
RV Parking Nearby
Boating
Boat Rental Available
Marina
Pier
Boat Parking Nearby
Trailer Parking Nearby