Sammy's Retreat B4
Gulf Front/3 BR Townhome, North Cape San Blas, FL.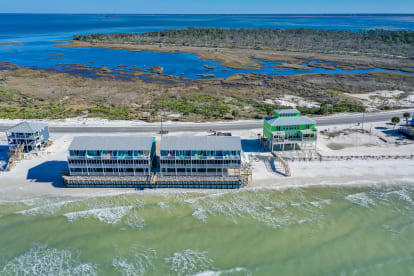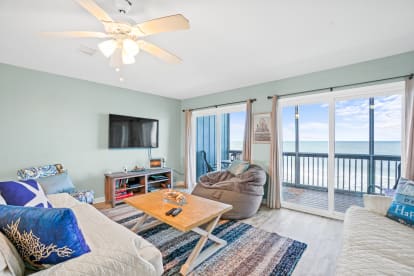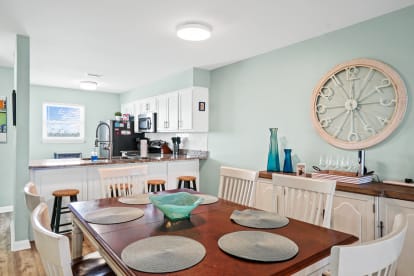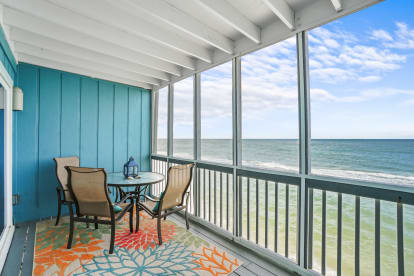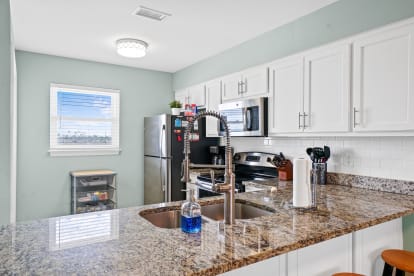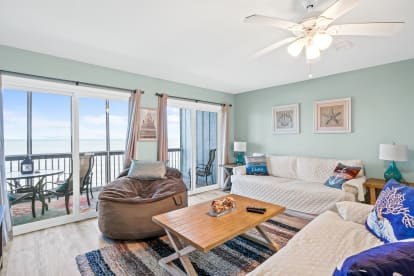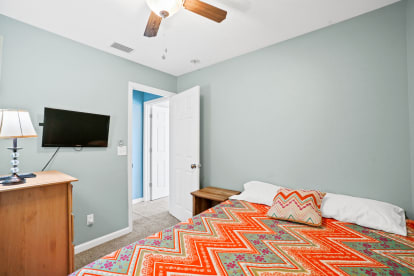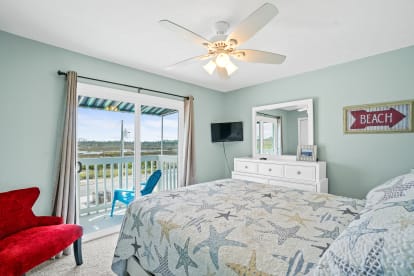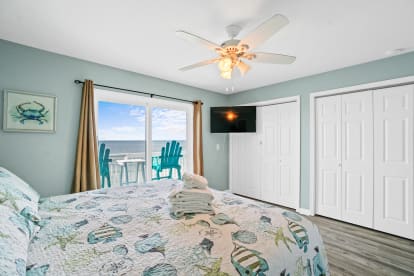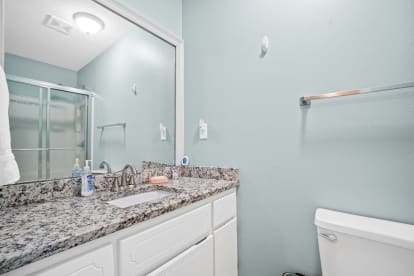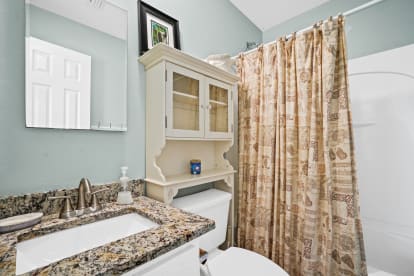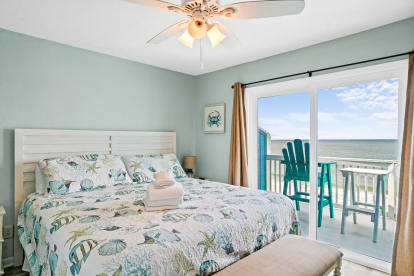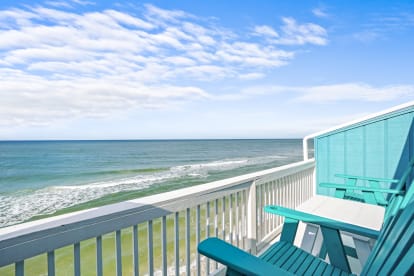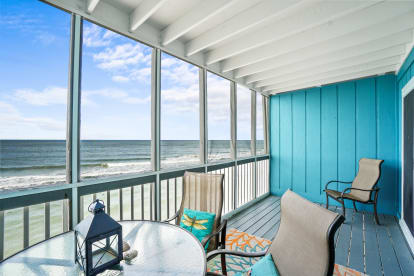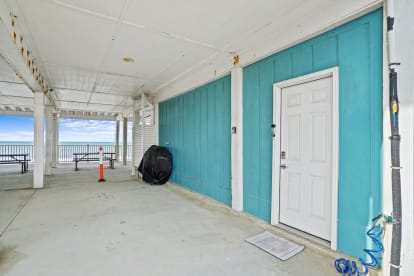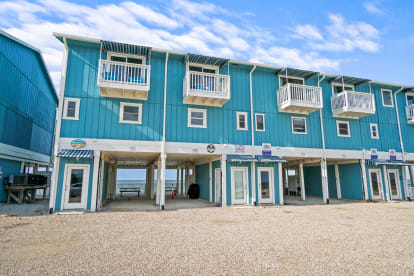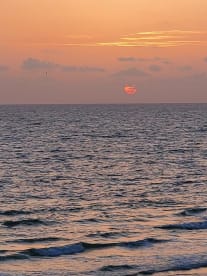 ---

My ECBYO listing
Description
GULF FRONT Townhome on Cape San Blas Beach! Sammy's Retreat (B4) is in Sunrise Sunset townhomes with views as far as you see of the Bay and the Gulf of Mexico. Our home is 3 BR 2.5 Bath on North Cape. You can not get any closer to the water than this! The Kitchen and Living area are on the 1st floor with a screened in balcony where you have your morning coffee or dinner outside with family while listening to the waves. Bedrooms are on the top floor with Gulf Front Balcony and Bay view Balcony.
| From/To | Nightly | Weekend | Weekly | Monthly | Min Nights |
| --- | --- | --- | --- | --- | --- |
It truly is a perfect place to stay.

You can see the bay from the kitchen and the ocean hits the building. It is anazing. It was very clean and nice. I would definitely stay here again
10/01/2022
Just as stated!


Unit very clean and very new looking and nicely decorated. Unit is well stock of condiments. Yes, you feel like you are on top of the water like in a boat! It has a nice screened in porch. There is an nice out door sitting common area behind the unit. The beach is accessible from both ends of complex. There are some beautiful sun sets to be seen!

There are 18 steps to living area and 15 more steps to reach the top floor and bedrooms…but our two senior couples had no issues with them.

Great communication by host thru totally time from request rental to check out.

Will rent again!
10/01/2022
The house is beautiful and well decorated.

Michelle was very communicative and provided all the information we needed timely.
10/01/2022
We will definitely be returning.

This was our first time staying in Cape Saint Blas and we absolutely fell in love with all of the beauty and peace it has to offer.
Michelle was a wonderful and accommodating host. Her lovely beach house was very comfortable and clean. The ammenities were as described and the ocean sunset views were spectacular.
10/01/2022
Great few days!
Enjoyed the place and the view was spectacular! Best beach vacay we have had in years!
09/01/2022
Our stay was perfect!

The unit had all we needed except beach towels, we did bring a couple of our own so we managed! The location was basically right on top of the water, you can't get any closer! The beach had easy access from the community deck/board walk with stairs! There was a kayak ramp very close to the condo for access to the bay which was awesome! Michelle was so great at questions or communication! The unit has 2 flights of stairs which could be difficult for elderly renters or elderly pets! I would recommend this whole experience!
09/01/2022
Awesome views and great location!
08/01/2022
We will definitely be back ♥️
Don't miss this beautiful home & incredible location. Close to everything! Our family snorkeled, scalloped, rented a pontoon boat and jet skied a dolphin tour. The beach is ridiculously beautiful & shelling was top notch. Michelle checked in at all the perfect moments and even bought beach chairs for us to enjoy! Thanks for everything!
08/01/2022
Perfect for a family getaway!!
We had the best time at this location! It was very clean, had everything we needed, and was right on the beach. The quiet beach made you feel like you were in a quaint seaside community- which we were. Good restaurants close by. Would highly recommend!
07/01/2022
We had a great vacation with our children and grandchildren
The beach is great! It is so close. Not a long walk at all. It wasn't crowded so our grandchildren could run and play. Several days we were the only ones on the beach. It was a great condo. Very well stocked kitchen. The beds are comfortable and tv in each bedroom. We fell in love with Cape San Blas! It was a great vacation and we can't wait to come back. Michelle was a great host with a lovely townhome. Check in and out was a breeze!
07/01/2022
We would recommend this townhome to others!

My husband and I took our three children (4, 2, & 10 months), our golden puppy, and father and mother- in-law to the Cape this year and stayed at Michelle's townhome. It was the perfect location and just steps to the beach making it so convenient with little ones. The townhome was clean and comfortable and accommodate all of us comfortably.
07/01/2022
We can't wait to return.

My five friends and I visited Cape San Blas as a 50th birthday celebration. This was our first time visiting the area and had many questions. Michelle was quick to respond prior to and during our stay. Everything was just PERFECT!!
06/01/2022
location was great
Initial impression was a little skewed when we arrived we saw the water up to the dunes and no beach out front. There was plenty of room to the side and a great amount of space. We enjoyed the beach with 4 dogs, 3 Australian Shepherds that love to run and play frisbee and we were able to do this without impeding other families on the beach. Nice ocean views that give you an impression of being on a boat. Our little 6 month old loved his first stay and the room/condo was in great order.
06/01/2022
Everything was amazing!
The town house, beach, and surrounding area were all beautiful and laidback, which was exactly what we were looking for.
06/01/2022
Michelle was a wonderful host!


We appreciated her thorough communication and love of pups! The house was immaculate exceeded our expectations! Highly recommend!
05/01/2022
Very nice and clean! Great location! We love it! We will be back again!
05/01/2022
This place is absolutely perfect!


Beautiful views and so clean! Even the bed linens smelled wonderful! We will definitely stay here when we return!
04/01/2022
The house was amazing.


Great place to escape. Quiet area and plenty of beach for the family. House was beautifully done, beds were comfortable. Everything you need in an Airbnb is there! It's on the water, sunsets from the deck, and white sand. Can't wait to come back!!
04/01/2022
Great communication before & durning our stay.


The house is absolutely perfect for a family getaway. Quiet & peaceful area.
04/01/2022
Bathroom
Bathtub
Linens & Towels
Private Bathroom
Shower/Tub Combo
Walk in Shower
Hairdryer
Cooling Comfort
Ceiling Fans
Central Air Conditioning
Entertainment
Big Screen TV
Cable TV
Netflix
General
Linens Included
No Smoking
Pet Friendly
Townhouse
Managed By Owner
Kitchen
Washer/Dryer
Blender
Breakfast Bar
Can Opener
Coffee Maker
Dishes
Dishwasher
Disposal
Fully Equipped Kitchen
Ice Maker
Ironing Board
Microwave
Oven
Pots and Pans
Refrigerator
Stove
Toaster
Utensils
Crock Pot
Outside Living
BBQ Grill
Deck
Outside Shower
Patio
Porch
Porch Furniture
Gulf/Ocean Front
Balcony
Beach Chairs Provided
View (Water)
Waterfront
Beachfront