Freshly Squeezed - Private Pool!
Perry's Place 4BR 4.5BA Sleeps14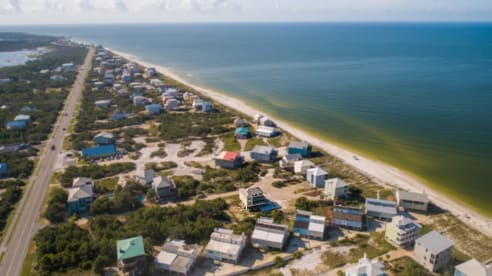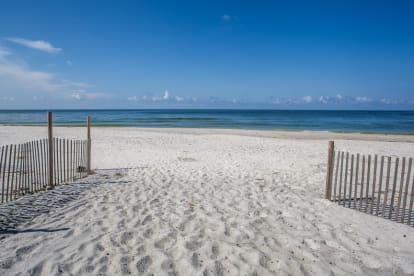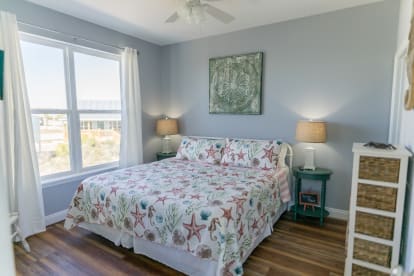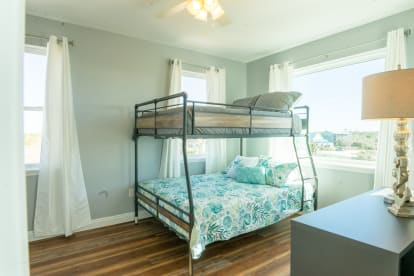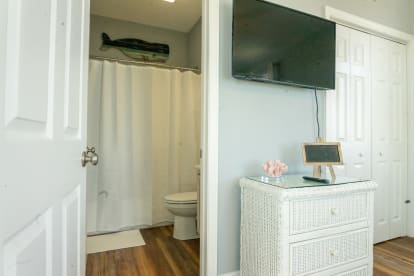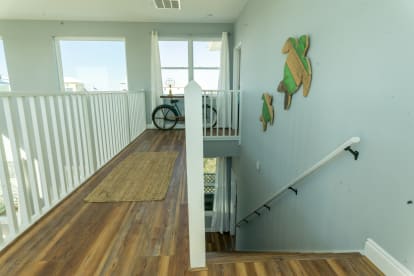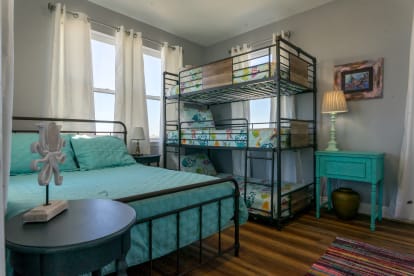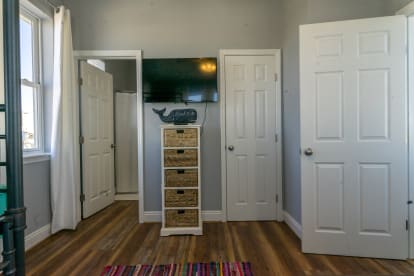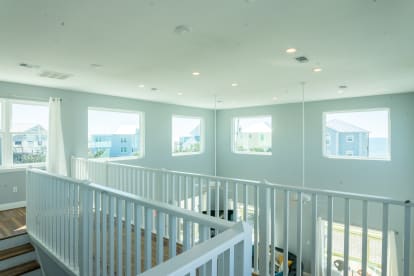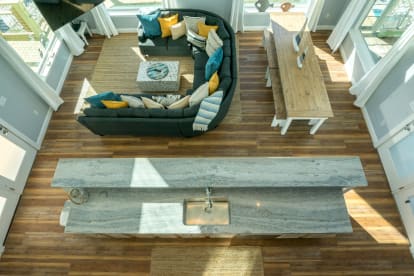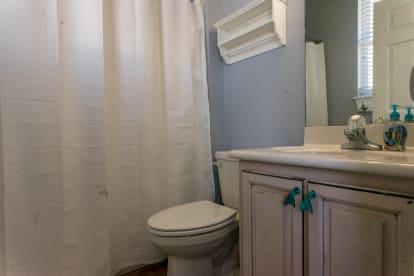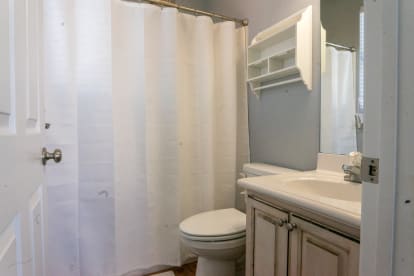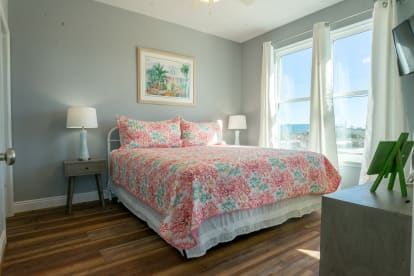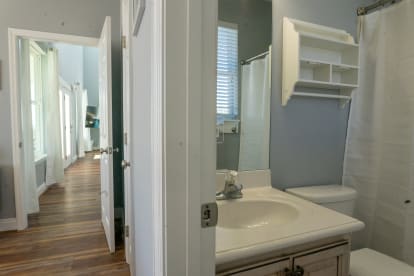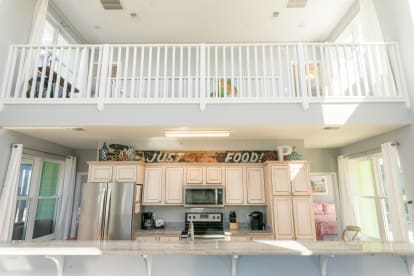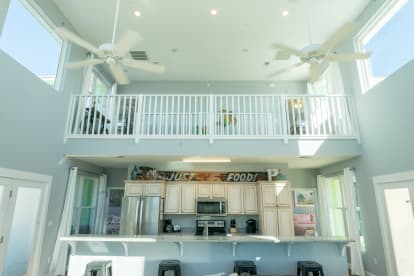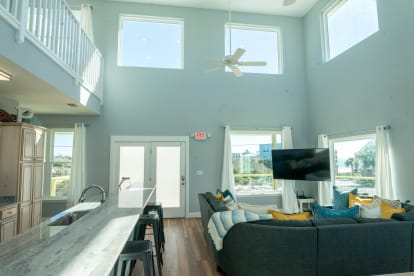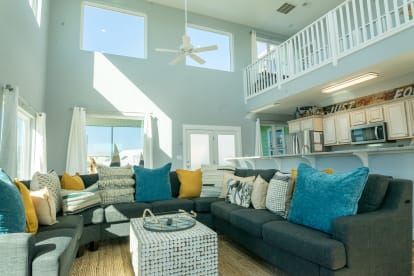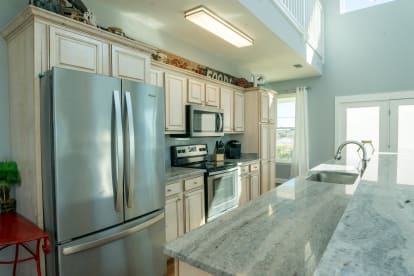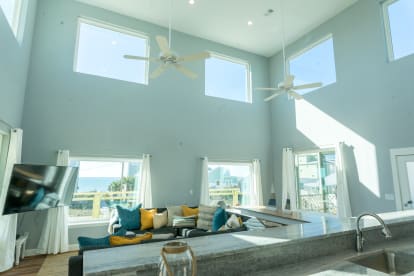 ---

My ECBYO listing
Description
THIS PROPERTY RENTS FOR A FULL WEEK FROM MAY 5TH-AUGUST 4TH, SATURDAY-SATURDAY.


This 4 bedroom, 4.5 bathroom gulf view home is located in San Blas Estates.  This home sleeps 14 & each bedroom comes with it's own bathroom and a half bathroom located next to the laundry room making this the perfect home for your friends or family getaway!!

The living area has a wrap around sectional and matching loveseat with a flat screen TV connected to cable. There is also WIFI and a landline at the house. There is plenty of seating with the dining room table and 10 barstools and 2 picnic tables on the decks. The vaulted ceilings really bring this room together with plenty of light shining through-out. You also have gulf views from the main living area, upper second story catwalk and deck.
Walking up the stairs, you will see a balcony overlooking the Living/Dining Area with great Gulf views.  Here you will find the 2 Double Bunk Rooms located with their own separate bathrooms. Each room has one twin/twin bunk & a twin/full bunk each with their own bathroom and flat screen TV's. This house has a covered deck as you walk up offering a picnic table with bench seating. Off of the dining room, is an enclosed screened deck with another picnic table. The front features an open deck with 6 white tall chairs and 8 barstools to relax in & enjoy the views.  On the lower level you will find a new decked portion of the patio and has additional seating. The private pool is a place for everyone to enjoy themselves after a long day at the beach. With plenty of seating and lounge chairs this entertainment area and a place that everyone loves! The pool may be heated for an additional charge.
| From/To | Nightly | Weekend | Weekly | Monthly | Min Nights |
| --- | --- | --- | --- | --- | --- |
Pet Fee:
$100.00
(Optional)
Perry's Place

The location of Perry's Place is excellent. The beach, water, home, well, lets just say everything was perfect on our getaway. We were all wishing we could stay longer. We will definitely be visiting Cape San Blas, Florida again!!
08/05/2019
Family Vacation

This property was the best location. Having the pool was the best decision we could have made when picking a location. Beach was private, seemed only for the houses.
08/04/2019
Great house close to the beach

Our dogs loved it and so did the kids. Just a few steps to the beach, met all of our expectations. Property was clean and well kept.
08/29/2018
Perfect house for a large group!!

Bedrooms were smaller than expected but loved having a bathroom in each !!
08/20/2018
Beautiful Beach House

Our family(adult children and grands) had a wonderful week at this lovely home. There was plenty of room for everyone, and the pool and close walk to the beach was great.

We prepared most of our meals and found everything we needed in the well equiped kitchen. Would definitely reccomend this Beach House.
07/30/2018
Enjoyable Stay

Location, location, location are the words that come to mind when staying at this house. The beach was an easy stroll, the house worked wonderfully for our five grandchildren plus their parents, and us their grandparents. The pool was a tremendous hit especially after dark!
07/26/2018
Great vacation

Great place to stay!
07/26/2018
Loved everything about Perry's Place!

This home was perfect for our 12 member family which included 6 adults and 6 children--ages 3-14!

Beach access was easy; the pool was just what our children needed following trips to the beach. All the beach toys and wagon were handy to have available!

The living area, kitchen with the large island for eating and food preparation was so easy to manage. The screened in porch was nice for those that mosquitoes found! haha

We would stay there again! Thank you.
06/05/2018
Fantastic!

The home was clean, very close to the beach, pool was clean and well maintained, and there was a variety of toys for our use under the house. We will be back to Perry's Place!
05/07/2018
Perfect Vacation!!

Beautiful place, had everything needed for a large family! We will be back!!!
03/31/2018
Great house, Great Location, can't wait to return
Just got back from Perry's Place for the week. The house is fantastic! It's in a perfect quite location. Very short walk to beach. The house has everything you need for a great vacation. We did not want to head back to Tennessee this morning. Kyle the owner is great to work with. We are already planning our next trip.
05/23/2020
Perfectly Perfect!
Perry's Place was amazing for our 2 families of four! So close to the beach, we loved the pool and easy to walk to the Trading Post, donuts and ice cream. The house was super clean and Kyle was a fabulous owner/host. We hope to go back again soon!
05/30/2020
Wonderful Family Vacation!
We spent a week at Perry's Place and this house fit all of our needs perfectly! The house is beautifully decorated and had plenty of beds for 6 adults and 2 toddlers. The outdoor patio areas are amazing and the outdoor furniture is high quality! Our girls enjoyed the screen porch in the evenings while we fixed dinner. It was a very relaxing retreat for us. The pool is fantastic! having our own private pool right beside the house was so nice. We grilled and went night swimming several nights. When we come back to Cape San Blas, Perry's place will definitely be where we stay. Kyle was amazing and took such good care of us. We only had a few issues, all of which were out of his control. But he had them fixed quickly and was so attentive to anything that we needed. Owners like Kyle are really hard to find and we appreciated him so much. Definitely check out Perry's Place for your vacation rental, you won't be disappointed.
06/20/2020
Perry's Place Perfect!
Stayed there last week for a mini family reunion. Plenty of room and having an on suite bathroom for each bedroom was a bonus. Well kept, clean and well appointed. Plenty of cookware and no need to bring a decent knife with you. Cutlery was top notch. Pool was well maintained, and plenty of beach fare including kayaks, standup board, inflatables, carts, chairs, games, etc. Kyle was easily accessible if needed. Will stay there again without a doubt.
07/25/2020
We loved Perry's Place!
This was the perfect home for our group. We had 2 couples with children and it was laid out perfectly. Nice pool, great location, short walk to the almost private beach. Pretty and well equipped home. Family and dogs loved it! Close to Trading Post and Scallop Cove. Very responsive owner. Can't wait to visit again!
08/01/2020
Great House, Great Location!
The house was even better then pictures! The house is just steps to the beach and a short walk to local restaurants. The pool at the house was amazing. There are even a bunch of pool and beach toys for your use including a paddle board! Only complaint would be no dish towels which is very minor.
08/22/2020
Perry's "Perfect" Place
Perry's Place is an excellent location just a few steps from the white sand. The house is tastefully decorated and well stocked to meet all your needs. It offered plenty of sleeping room for all our family. The pool provided an option for the kids when they were tired of the beach. The beach has a shallow pool created by a sandbar which was great for our young children. Kyle was very attentive and easy to work with. We are already talking about another visit to Perry's Place.
09/05/2020
Better than the pictures!
Great house and only steps to the beach. Much better in person. The pictures don't do it justice. The heated pool is an absolute must on those chilly spring evenings. Kyle was easy to work with and answered any questions we had right away. We are already talking about planning another trip.
03/20/2021
2nd stay at Perry's Place
This year was just as great as our stay last year! Already got it reserved for our next vacation. Kyle was great to work with as always! Repeat guests for years to come!
05/29/2021
2nd stay at Perry's Place
This year was just as great as our stay last year! Already got it reserved for our next vacation. Kyle was great to work with as always! Repeat guests for years to come!
05/29/2021
COVID Haven
A perfect place for a much needed break from the confines of COVID! The house is nicely decorated and looked like it had just been painted. Having the option of pool or beach is wonderful and the location was private which we preferred given the circumstances. Kyle is very responsive as well
08/07/2021
Entertainment
Cable TV
Stereo
Swimming
Television
TV/DVD
Video Library
Home Office
High Speed Internet Access
Wireless Internet Access
Kitchen
Washer/Dryer
Blender
Dishes
Dishwasher
Garbage Compactor
Ice Maker
Ironing Board
Microwave
Oven
Refrigerator
Stove
Toaster
Utensils
Outside Living
BBQ Grill
Deck
Patio
Private Pool
Gulf/Ocean View
Balcony
Beach Chairs Provided
Beachfront
Bathroom
Linens & Towels
Hairdryer