Sunset Point Cottage
See "New Years Special" Luxury Gulf Front Home, Gulf Front Private Heated Pool, Elevator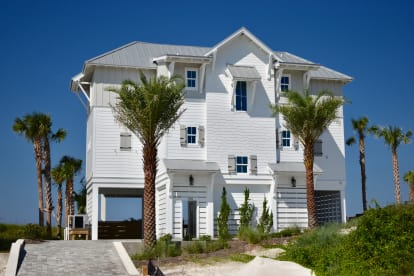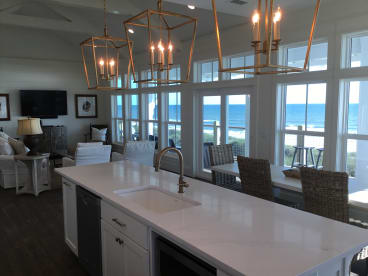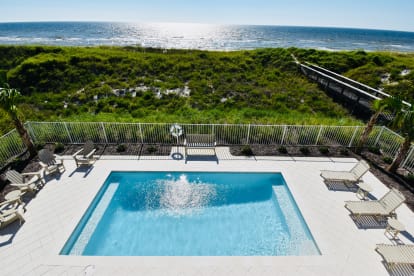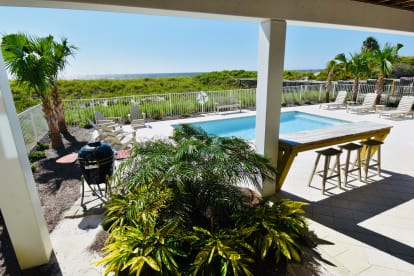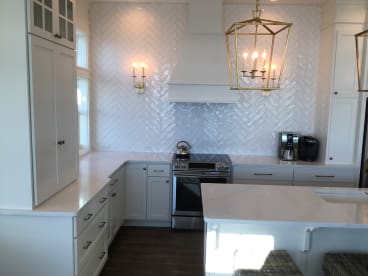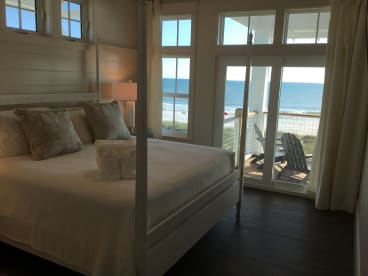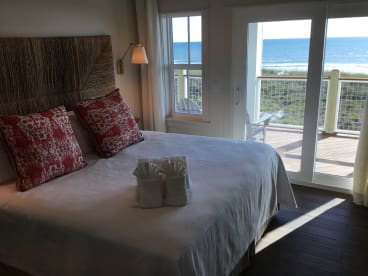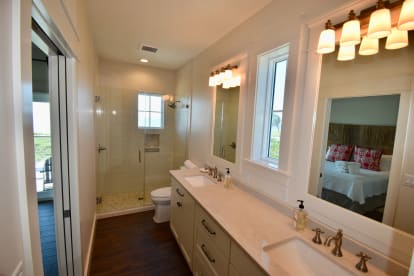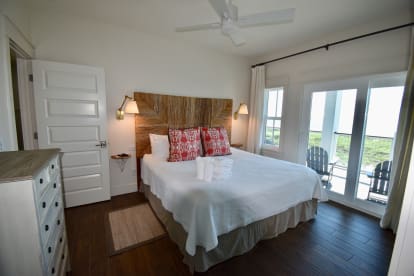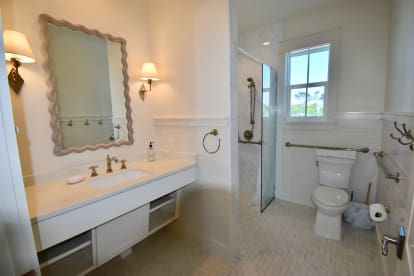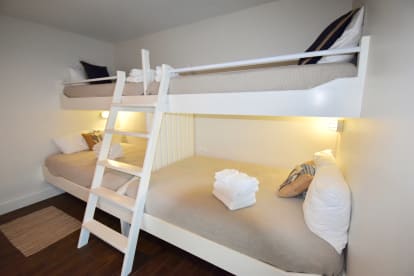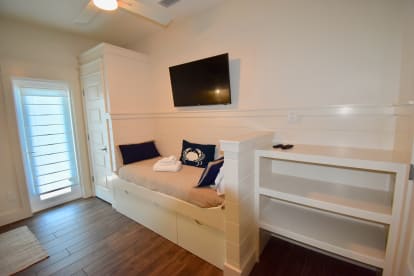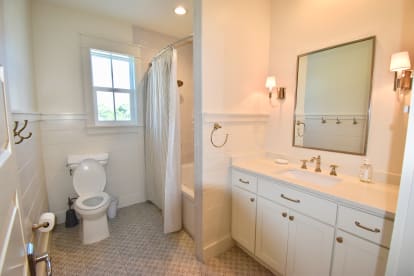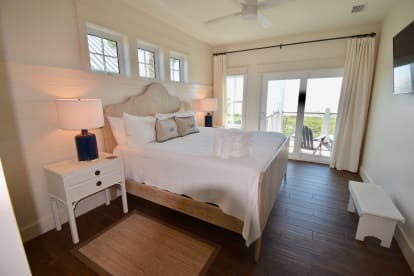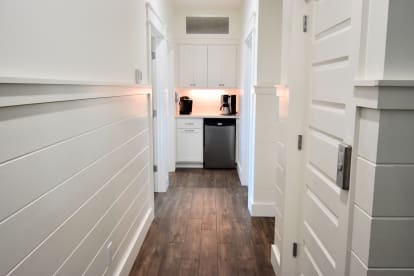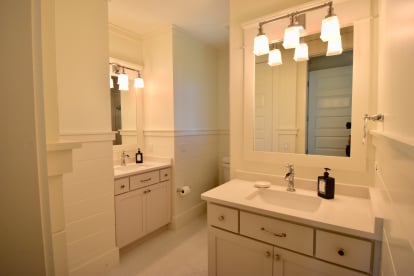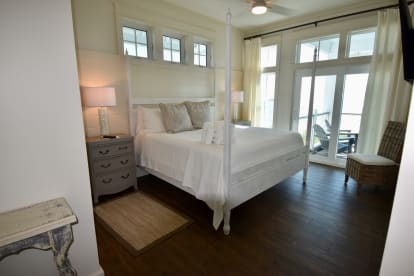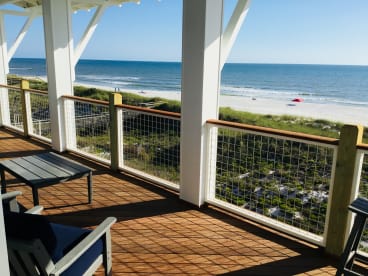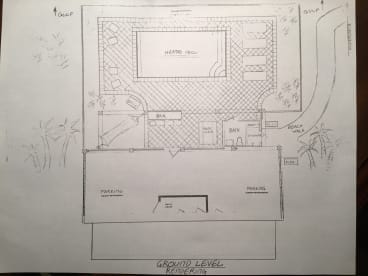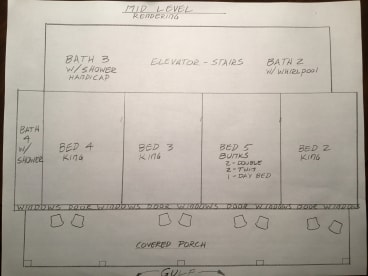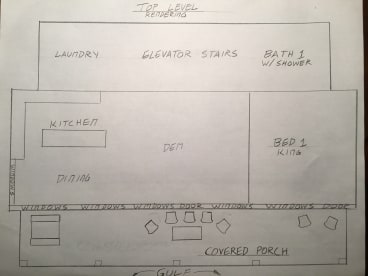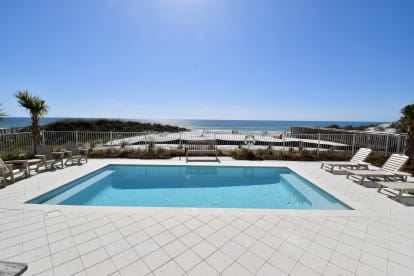 ---

My ECBYO listing
Description
Our home has been described as the most beautiful on the Cape. Hope you enjoy!  You may visit our home at CottageRents.com
Built in 2018, Sunset Cottage is located at Sunset Point at Secluded Dunes.  Our upscale beachfront house is a South Walton architectural style designed with calming coastal charm. Sunset Cottage floor plans are included for illustration. We invite you to reserve your stay at our new beach house to enjoy the comfort and ambiance created by the talents of so many. We are thankful for many craftsmen and interior designers who have worked so hard to make this a reality. 
- Beach front house on the beautiful north shore of Cape San Blas 
- Five Star, we have 32 reviews. To see google; vrbo
1287078
- 4 King bedrooms and the 5th bedroom sleeps 7 with two custom twin over double bunkbeds and a daybed
- Each bedroom has unobstructed gulf front views with doors to the covered porches
- 4 full baths with one having a handicap accessible shower, plus 1 bath by the pool.
- Private gulf-front heated pool as well as a community pool
- Elevator
- Handicap friendly house
- Smart TVs in the living room and in each bedroom
- Sunset Pointe is a private gated community
- Our location is on the north end of the Cape, near scenic St Joseph Peninsula State Park - previously named best beach by Dr Beach
- Dogs welcome
Sunset Cottage is professionally decorated with classic character and a calming coastal chic feel. Beds to sleep 15. Many custom features including coastal trim, ceramic tile, quartz counter tops, Visual Comfort light fixtures and plenty of windows to enjoy the incredible views. We have a well stocked kitchen, two refrigerators and gourmet-quality cookware plus a coffee bar located on the bedroom level to enjoy your morning coffee. Watch the dolphins and sea birds from covered porches overlooking the gulf on each floor. The open floor plan living room and kitchen accommodate gatherings with seating for all plus a picnic table and seating on the spacious covered porches. An outdoor grill is located at the pool deck where you will also find another picnic table and bar along with pool furnishings for relaxation and fun. No need to pack beach chairs, cooler or sand toys; we have a beach supply room for guest convenience.
Cape San Blas is like going back in time; Old Florida at its best. Sunset Pointe at Secluded Dunes community is quiet and family friendly; a special, sought after, private vacation community. It offers a club house, community pool and the beautiful Cape San Blas beach which was ranked #1 beach by Dr. Beach in 2002. The Cape continues to be considered one of the top five beaches in America. There are no tall condos or hotels anywhere nearby; just simply miles of pristine beaches and large dunes! 
As you stroll along the quiet beach, you can collect a variety of seashells or just enjoy watching the dolphins swim by or eagles and osprey scouting for prey. Of course, swimming, snorkeling, sunbathing, kayaking or fishing in the surf are also a favorite. Explore St. Joseph Peninsula State Park just a few minutes away with it nature trails, huge natural dunes, fishing, and abundance of birds. 
You may want to rent bikes and golf carts to cruise on the many miles of bike paths or kayaks and motor boats to explore the bay, gulf, many waterways or fresh water lakes. Or you may prefer sunset horseback riding on the beach as it can also be conveniently arranged. St. Joseph Bay Country Club open to the public is only a few miles away offering a golf course along with tennis. For water exploration there are five separate boat ramps within a few miles offering access to St Joseph's Bay, Apalachicola Bay, St. Vincent's Island National Park, Lake Wimico for large mouth Florida Bass and many other waterways. 
You can catch blue crabs, throw your cast net for shrimp, collect Apalachicola Bay Oysters or go scalloping in nearby St. Joe Bay. Enjoy these delicacies or freeze them for your return home.
If you're not in the mood to cook, there are a number of great, local restaurants and night spots nearby. The famous Indian Pass Raw Bar is just a few miles away, offering the area's delicious oysters, shrimp, gumbo and often featuring live entertainment and dancing. It is just 20 minutes to the historic and quaint fishing town of Apalachicola. Here you will find some great shopping as well as many restaurants offering the worlds best seafood along with night spots. Walk the boardwalk and see what catch the fishing boats have brought in for the day or visit the charming shops. The village of Port St. Joe is 15 minutes away with numerous shops and restaurants; a good place to stock up on all of the provisions you'll need.
Go view our homes at CottageRents.com or contact us at CottageRents@gmail.com or phone
205-253-5336
.  
From/To
Nightly
Weekend
Weekly
Monthly
Min Nights
11/25/2023
12/16/2023
--
--
$3,285
--
7
12/16/2023
12/23/2023
--
--
$3,490
--
7
12/23/2023
12/30/2023
--
--
$6,985
--
7
12/30/2023
01/06/2024
--
--
$4,490
--
7
Pool heat:
$295.00
(Optional)
For a current quote please got to our site; CottageRents.com you can view availability/current quote
Relaxing stay in a beautiful home on an amazing beach
Sunset cottage has everything you need for a great family vacation. The owners have made it so you only need to bring your clothes and food. Top of the line everything. Beautiful home, beautiful pool, and beautiful beach. We were all sad to leave
08/11/2018
Incredible Home with Amazing Views
We were looking for a family vacation spot to relax and spend time together and this is the perfect location. The house is built to where every room has an amazing view of the ocean. As you walk up the staircase and enter the third floor, the views will take your breath away. Bob and Rhonda put so much thought into building this house to exceed everyone's expectations. It is furnished with everything you need for a vacation, from kitchen appliances and utensils to board games for children and numerous pool and beach supplies. The elevator located by the entry door makes it easy to load and unload all your belongings to the top floors. The outdoor restroom located by the pool area is definitely a plus. We enjoyed everything this home had to offer and can not wait to return to Sunset Cottage to make more memories that we will always cherish.
07/07/2018
Exactly What We Were Looking For in a Vacation
We were looking for a quiet accommodating place for our family of six to get away. We found everything we were looking for at Sunset Cottage. The house is spacious, functional and finished exceedingly well. Whether we spent time by the pool, enjoyed the rain from one of the covered decks, or ran over to the beach to lounge or fish, everything was amazing and easy. We created family memories that will be cherished for years to come. When we return to the Cape, Sunset Cottage will always be our destination.
06/30/2018
Amazing views!!
The view from the home to the ocean is the best part of this place. From virtually every room, you can see the beautiful water. What an amazing place for our large group to relax and be together.
06/23/2018
Incredible Family Vacation!
My family (12 in total) experienced an absolutely wonderful time while staying in this beautiful home on the Cape. Bob and Rhonda are superb hosts and provided us with a flawless stay in this newly completed beach home. Every amenity was provided well beyond our expectations. The home, furnishings, beds and bedding, appliances and incredibly well equipped kitchen were all commensurate with a Five Star resort. The pool, deck and grill area were thoroughly enjoyed and greatly appreciated by all! Each bedroom faces the Gulf and each has access to outside decks with very comfortable furniture. The elevator was an amazing plus for loading and unloading luggage, supplies and groceries. I really cannot complement Bob and Rhonda enough for the superlative build quality and professional design of the home, furnishings and presence of every conceivable appliance, cutlery, tools, and extras that make this home a jewel on the Cape. Kudos to Bob and Rhonda!! Besides all the house offers, Bob and Rhonda are the friendliest and most accommodating people that you will ever meet. Five stars...how about 8!!!
06/09/2018
Best Vacation Home EVER!
We had the pleasure of being the first guest to stay in this home and we loved every minute spent in the home and hated to leave. Bob & Rhonda have thought of everything to make your vacation as simple as possible. Bring your family & groceries and you are set for the week! We made sure to visit the local restaurants that Bob suggested and they were spot on. This is one vacation home we hated to leave, and we've been staying in vacation homes on the gulf coast for 10 plus years. If your looking to spend your vacation relaxing then look no further than this gorgeous home.
05/25/2018
Best vacation ever!

We have been vacationing in the outer banks for 20 years. After being chased out by Hurricane Florence last year we decided to try somewhere new. The Florida forgotten coast was chosen and we were not disappointed! The blue calm warm water gave the whole family the opportunity to enjoy the ocean. The beautiful home provided by Bob and Rhonda just enhanced the experience. The kitchen was well equipped, it was nice that beach towels were provided. The pool was a great place to wind down after a day playing in the sand. We rented kayaks and paddle boards from the Scallop Cove, ate everything Peachee's has to offer and loved it all and found the Trading Post a great place to go for all the grocery items we forgot to get at the Piggly Wiggly. It was a family vacation to remember!
08/07/2019
Perfect location for a quiet relaxing getaway

Property is filled with all the extras. Plenty of cookware, tons of outdoor items to go to the beach with, perfectly located on the quietest part of the beach. Beds and pillows were extremely comfortable, house was completely accomodating. Nothing but the best to say about this property.
07/20/2019
Outstanding

This is the best house we've ever stayed at. It is a really beautiful and well maintained property both inside and out. It has everything you might want and need. The owners are very welcoming and approachable too. Our family had a fantastic time. You can never get tired of the amazing views from every angle of the house ! Also the uncrowned beach makes you feel like you are on your own private piece of paradise! Highly recommended!
07/25/2019
Rest and Relaxation

This beautiful, peaceful house was exactly the vacation my family needed after a year filled with so many challenges. The experience was all that we had hoped it would be.
07/06/2019
The house was excellent. The accommodations were just right for my family. We had a wonderful stay.

Loved Sunset Cottage. Want to stay next year with you.

Will contact to set up when we want to rent.
07/10/2019
Family fun and wonderful memories.

From the moment our family walked into this beautiful accommodating home until our time was up we had a fantastic time! The house was clean and everything we Needed was there. Loved the view from the upper floor. Sort of looked as if we were on a cruise ship. We spent a lot of time on the upper deck. Dennis and I are real beach people so we were on the beach most days enjoying the sun and surf. Our Grandsons body surfed and ran the beach. The pool was also perfect. We did have an issue with the pump but a pool company came quickly after I called. One day all the boys went on a guided fishing trip in the bay and caught most of our dinners for the week. So yummy.

We made many wonderful Family memories. Who knows we may be back.

Thank you.
06/15/2019
Gorgeous View!

This beach house has everything you need! First of all, the house is gorgeous and beautifully decorated. The kitchen is very well stocked with cooking utensils, plenty of dinnerware, silverware, cups, glasses, serving bowls and even storage containers for leftovers. The beds and pillows were very comfortable! All the bedrooms and the great room face the ocean, which is very rare, and allowed us to enjoy some beautiful sunsets from the deck. The pool was perfect for the kids as well as the adults. Pool toys galore! And plenty of chairs and lounges. We put the grill to good use too!! The beach is wonderful and very quiet and private, which we enjoyed immensely. A quick walk down the boardwalk (a few feet from the house) and you're on the beach.

This is the first time my family has had the opportunity to vacation together and we couldn't have chosen a better property. Thank you, Bob and Rhonda Toler, for sharing your home and giving us a lovely place to make many wonderful memories!
06/11/2019
Great stay

Beautiful property
08/13/2019
A beautiful home and a great beach location!

The house has everything you could possibly want - ocean front, pool, clean, lots of room, quality workmanship throughout the home, and every detail inside the home has been carefully selected - down to the light switches (thankfully, this is not a builders grade home). My family and I had a very relaxing Easter week and felt like we were being spoiled with the views of the beach and the sightings of the dolphins without even leaving the house. We would highly recommend this home and especially recommend our new favorite evening activity to anyone who rents this home - watching the sun set while sitting on the beach around a fire while making s'mores!
05/13/2019
Spring Break

We had an amazing time spending our Spring Break in Cape San Blas. The home was as pictured, well equipped, and was very clean. We had the pool heated, which was nice on the cooler days and access to the beach was just a short walk. We enjoyed our first stay on the Cape and would recommend this property for anyone looking for a quiet beach getaway.
04/30/2019
Family Trip to Cape San Blas

This was our fourth time at to come to The Cape and the furthest North that we have stayed. The house was by far the best house we have stayed in. Loved all the king sized beds....mattresses were very comfortable....the furniture was great, tons of outdoor seating. All of the bedrooms opened to the patio (facing the beach) Appreciated the gate to enter pool for safety with our kiddos...and loved the gate also for our dog to keep her in when we were swimming....We had our two small young kids and paid extra to have the pool heated (trip was in April)...and I would have to say that was the best part other than being directly on the beach and the boardwalk from house....we used the pool multiple times a day...and it was actually heated..(have paid before at other houses and it was barely luke warm) this was not hut tub hot but definitely heated. Another thing that we loved is compared to the other houses we have stayed in...when swimming in the pool located on bottom level (or on the ground level) you couldn't see the ocean because of the sand dunes....this house you could....which made it that much more relaxing sitting by the pool. The elevator was amazing....Smart TV.s in every room. My kids loved the bunk room. Bathrooms were great. The kitchen was very well equipped...this house is definitely luxury. Decoration was beautiful and although luxury I didn't feel over protective living in it for a week with two kids and a dog. Tables and dishes etc are very nice but they offered more options that were easily breakable for kiddos.

What was your favorite about the beach house?

Daughter Age 5: "Bunk Beds, Top Level because it was so pretty"

Son Age 3: "Pool, Waves, Elevator"

Only suggestion to house owners would be: inexpensive long runner rug on ground floor to help wipe your feet to get the sand off before going up stairs or elevator (even when you have washed them off we always seemed to track some inside)...we laid one of OUR personal beach towels there...would NOT suggest using theirs because they are white.

And secondly, an extra lock on ground floor that guests can use to lock at night when everyone is tucked in at night....personally with children I think its just an added safety measure, than just the normal one bolt they can reach and turn.

Would absolutely recommend this house and would love to stay here again...even without a rug bottom level and extra lock.

The owners and caretaker of the house are very kind.
05/17/2019
wonderful!

First time to stay this far down the cape and first time at this house. It was so nice and clean, owners could not be any nicer! We unfortunately had to cut our trip short due to Hurricane Michael but we will definitely be going back and most definitely will book this house again! -The Jermans
10/25/2018
Awesome house!

Great house, big enough for two families!
10/03/2018
Great family getaway!

We had a wonderful week in cape San Blas! The area is very quiet and the people are extremely friendly. The house is brand new and gorgeous. It was also well equipped with towels, beach supplies, kitchen utensils and anything else you would need. While we were there a tropical storm came through, but it didn't jeopardize our trip at all. We just enjoyed relaxing in the house.

The owner of the house is very kind and accommodating. We will definitely plan a trip back!
09/16/2018
WONDERFUL

Wonderful all around!!! Beautiful home, fantastic location, literally every room has spectacular views of the gulf (even the shower we used had a gulf view...how great is that). Pool was perfect, beds were so comfortable we stripped it back to photo the label and will be buying one for home. Good greif, even the pillows were perfect... and we are VERY picky about beds and pillows. Could not have been any better. The pup even loved it. To top all that off, Bob and Rhonda were super accommodating. Will definitely be back!
09/04/2018
Beautiful Home

First time on the Cape, and we absolutely loved it. We would definitely love to come back again.
10/30/2021
Dream Beach House

ALL five bedrooms had gorgeous, ocean-front views. Not one of our crew of 10 felt like they drew the short stick! The upper deck overlooking the dunes and ocean was postcard picture perfect for our sunset happy hours. The open floor plan with a large kitchen, dining, and living area was a great space for us all to be able to come together to prepare and share meals, drinks, watch football, play board games, listen to music, and dance around being all kinds of silly. The pool area was also pretty amazing!!! The lighting in the evenings had changing rainbow colors. How smart and convenient were the pool-side bathroom!! and the WARM shower from coming in from the beach. The fishermen in my crew LOVED the fish-cleaning area, complete with water. We had planned to go out for three dinners, but only went out once as we loved the house/area so much and did not want to leave.

Would not recommended this house for teens/children as the living room furniture is white which would be just a bit too worrisome with littles and devil-may-care adolescents. Perfect though, for me and all my empty- nester siblings and in-laws who can now enjoy to sit on a white sofa with no worries.
09/29/2021
Family vacation

Brought my family for a week and absolutely loved it! Great house with everything you need! Had three babies 3 and under and were very comfortable. Will definitely rebook for next year.
09/12/2021
Vacation 2021

Great relaxing vacation.
08/23/2021
Wonderful family time

We had a wonderful time! The house was lovely and just right for our family of six adults, six kids, and two dogs. Beautiful, clean, organized...so thankful for this special time and place.
05/03/2021
Wonderful visit

Great house, great food close by, great private pool, great beach! Highly recommend!
03/14/2021
Marvelous

Best family vacation spot we've had to date. Beautiful home with marvelous attention to details and amazing gulf views from every room. Great location. Easy check in with responsive management. Kitchen was delightful to prepare meals in. Awesome pool. We elected to have the pool heated for an additional fee and it was entirely worth it. Would return without hesitation. Near perfect experience.
02/15/2021
Amazing sunsets

The house is amazing. Plenty of space for everyone. Had lots of toys for the beach. Spectacular sunsets. The pool was perfect. Love all the white decor. Don't recommend it for small children. No way to keep all the white furniture clean. Specially with no upholstery cleaner provided.

Recommend you bringing ALL cleaning supply's and all paper goods, trash bags etc. you're going to need them.
01/18/2021
Great getaway

Our first visit to the Cape and everyone loved it. Had to bring a dog at the last minute and was such a relief to be able to do that. Loved the fires on the beach! A great way to ring in the New Year!
01/05/2021
Perfect Beach House

Bob and Rhonda have designed and outfitted the perfect beach house. The house was very clean and had everything you could possibly want in a vacation house, including location. We have rented many houses over the years and I would say this was our overall favorite rental. We paid the extra fee to have the pool heated and I would recommend paying the fee. The pool was plenty warm and my kids used it most days.

Our only complaint was that we didn't rent it over the summer to be able to enjoy the beach and amazing two levels of patios. You can't go wrong with this rental. Bob and Rhonda were quick to respond to my pre-trip questions.

Thanks Bob and Rhonda for the holiday memories and working out the extra day.
12/31/2020
Bedroom Setup
1 Futon
4 King Beds
2 Full Beds
2 Bunk Beds
Dining Room
Dining Table
Eat in Counter
Cooling Comfort
Ceiling Fans
Central Air Conditioning
Disability Access Features
Grab Bars in Bathroom
Safety Bars in Shower
Walk-in Shower
Handicap Accessible
Entertainment
Big Screen TV
Boating
Cable TV
Fishing
Golf
Kayaking
Snorkling
Swimming
Television
Smart T.V.
General
Linens Included
No Smoking
Pet Friendly
Smoking outside only
Telephone
Vacuum
Home
Pack and Play
Elevator/Lift
Online Booking
Managed By Owner
Kitchen
Washer/Dryer
Blender
Breakfast Bar
Can Opener
Coffee Maker
Dishes
Dishwasher
Fully Equipped Kitchen
Ice Maker
Ironing Board
Microwave
Mixer
Oven
Pots and Pans
Refrigerator
Stove
Toaster
Utensils
Crock Pot
Keurig
Outside Living
BBQ Grill
Community Pool
Outside Shower
Patio
Porch
Porch Furniture
Private Parking
Private Pool
Restaurants
Gulf/Ocean Front
Beach Chairs Provided
View (Water)
Waterfront
Beachfront
Parking
Driveway
Parking Available
Parking for 5 cars
Boating
Boat Rental Available
Boat Parking Nearby
Bathroom
Linens & Towels
Grab Bars
Shower/Tub Combo
Walk in Shower
Whirlpool/Jacuzzi Bathtub