McCosh Beach House
McCosh-- Gulf Front, Pool, Great Views, Pet Friendly, Private Beach Boardwalk, Wifi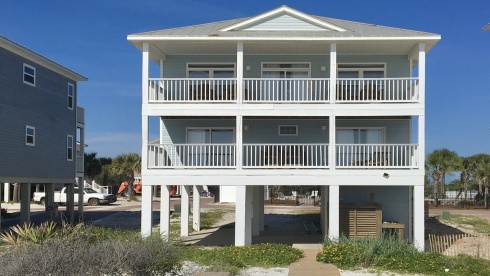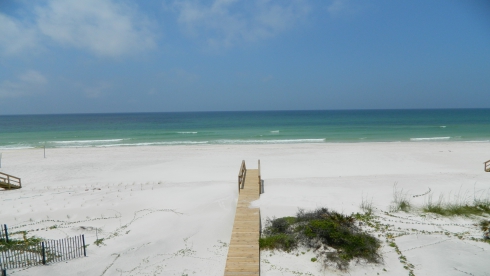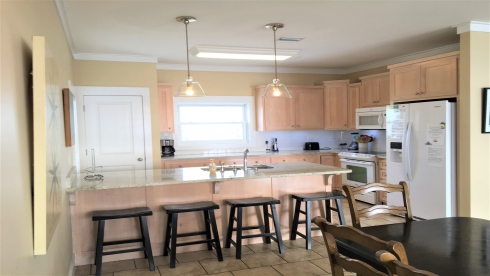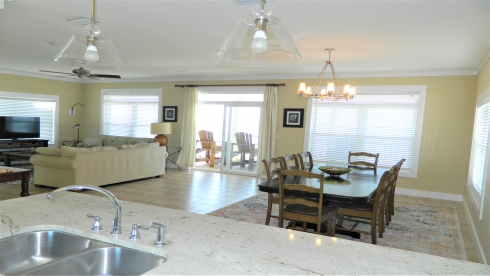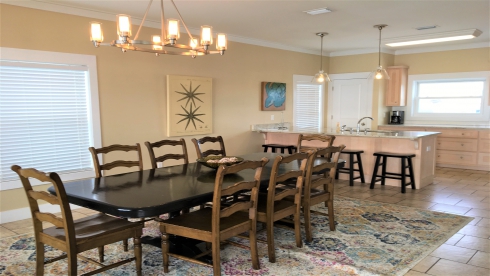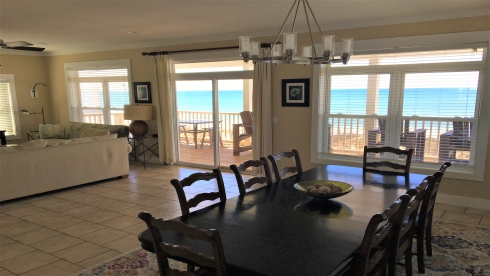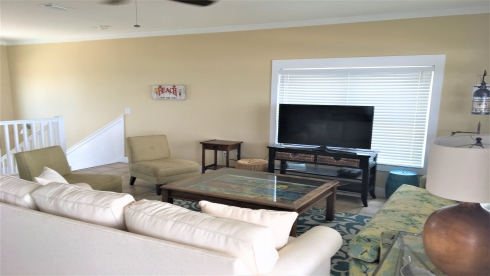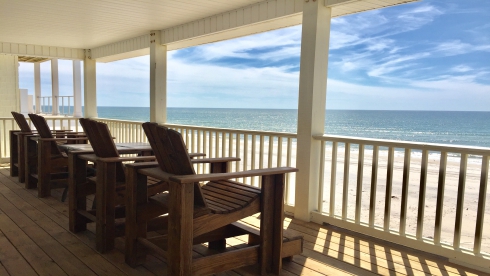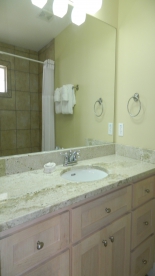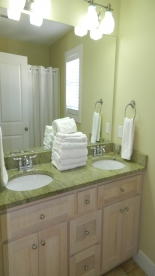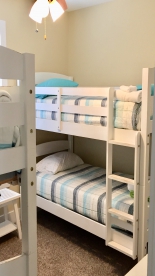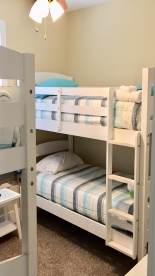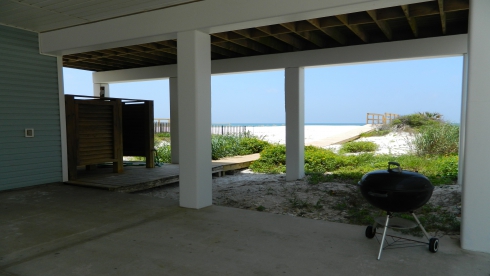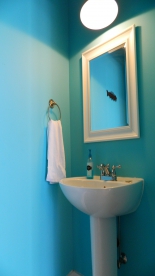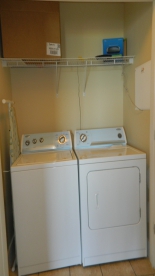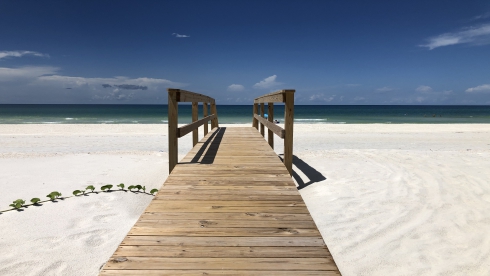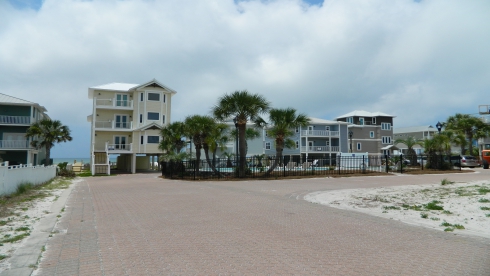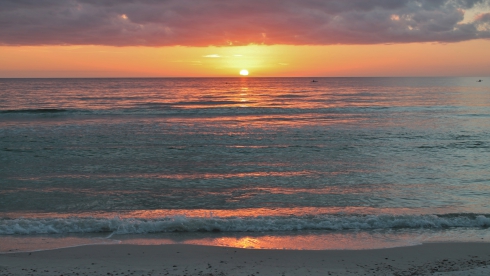 ---

My ECBYO listing
Description
McCosh Beach
Single Family Home, 3 bed/2.5 bath, Community Pool
Saturday to Saturday Rental
McCosh Beach is being updating during December 2020 with brand new vinyl floors in the bedrooms, updated decor, and new paint throughout. This home comes complete with granite counter tops, tile flooring, new vinyl flooring in the bedrooms, mini bar in the king master bedroom & work station in the queen bedroom. McCosh offers both sunrise and sunset views from one of it's three decks- two gulf front decks and one deck that over looks the community pool and bay.
This home is also within walking distance to Scallop Cove & San Flea Rentals for easy access to breakfast biscuits, donuts, ice cream, beer growlers, groceries, bait & tackle, beach gear rentals, and other essentials.
McCosh Beach is owned by the same owners of our very popular Grey Whale and Oaks Rest Barn vacation homes. They firmly believe in providing you with an exceptionally nice vacation rental home that exceeds your expectations when compared to other homes in the area
Location:
North Cape San Blas / St Joseph Peninsula
Distance to Beach
: Gulf front home with private 75ft boardwalk to beach
Rents:
Saturday – Saturday
Pet Friendly:
 Yes 
McCosh Max Occupancy
: 8 people
Beds
1 King Bed
1 Queen Bed
2 Sets of Twin/Twin bunks
Layout
1st Floor – Inside: half bath.  Outside: Hot/cold shower, fish cleaning station, grilling area(charcoal), and boardwalk to the beach.
2nd Floor: 1 King Master with attached bath & mini bar, 1 Queen room with work station, Bunk room with 2 twin/twin bunk beds. Full bath in hall for queen & bunk room. Laundry Area. Gulf front deck off king & queen room.
2.5 Floor: This is a smaller sundeck off the back of the house that overlooks the community pool and bayside. 
3rd Floor: Open living room, dining room, & kitchen. Half Bath. Large gulf facing deck w/ captains chairs.
McCosh Specific Amenities: 
Gulf Front / Beach Front
Master bedroom #1 is gulf front with great views & Mini Bar
Work Station / Desk in Queen Room
Large Covered Gulf Front decks 
Outside Grill (charcoal)
TV's in all bedrooms & Living Room
Fish Cleaning Station
Outdoor Beach Closet for Storage
Community Pool shared with 7 total homes
Convenient access to Scallop Cove & San Flea Rentals
Sunsets so Beautiful, they become a daily "Must Do" 🙂
Family memories you'll cherish for a lifetime
Standard Teresa's Beach Homes Amenities:
Bed, Bath, & Kitchen Linens Provided
Wifi/Wireless Internet
Cable or Satellite TV
Landline Phone Service w/ Long Distance to US & Canada
Full sized Washer & Dryer
Fully Stocked Kitchens including Regular Drip and Keurig Coffee Makers
Outdoor Grill
Outdoor Hot/Cold Shower
Central Heat and Air (AC)
Family Business Customer Service
St Joseph State Park – 3 miles
Port St Joe – 13 miles
Historic Apalachicola – 30 minutes
Mexico Beach – 30 minutes
Panama City – 60 minutes
Forgotten Coast, Cape San Blas FL, Pet Friendly Beaches, Dolphins, Shells, Pristine Bay, Scalloping, Fishing, Kayaking, Sea Turtles, Powder White sands, Emerald water, Sunsets, Vacation Rentals, Beach home rental, beach house rental, north florida beach, panhandle florida, places to stay, port st joe fl, mexico beach, beach, rentals
| From/To | Nightly | Weekend | Weekly | Monthly | Min Nights |
| --- | --- | --- | --- | --- | --- |
Pet Fee:
$100.80
(Optional)
All Inclusive-- No Booking Fees!
Our rates are all inclusive, except pet fee. No need to add in taxes or cleaning!
$500 down payment with remaining balance due 45 days prior to arrival.
Multi-week and monthly please inquire for details.
We accept credit cards or check; Discover, Master Card, Visa

Pets Considered: Dogs Only

Inquire for Specials. Repeat Guests Get $100 Off!
Subject to change. Inquire for quotes, specials, cancellation policy, and any questions you may have.
Beautiful home & location, awesome rental company


McCosh is hands-down the nicest home we've rented. Beautifully decorated, well-stocked kitchen, the owners spared no expense with the appliances, furnishings, and decor. Tile and granite everywhere. Views are amazing, and the deck furniture is awesome. The location is quiet, and the house has a private marked walkway to the beach (we had no issues with anyone else using the walkway). The community pools are well-maintained and beautiful. The location on the beach is low-density, and although all the homes around us were rented the beach was uncrowded and serene. This is definitely the place to go to get away from it all!

08/01/2016
Fantastic!
We've been to Cape San Blas many times and love it there. This is our first time staying in McCosh Beach and we hope to go back. It was a great house with all that our family of 5 needed to have a fantastic week. We usually stay further down on The Cape, but really liked the location of this house. Even being there the week of July 4th the beach was not near as crowded as some other spots that we walked by during our daily treks down the beach. Plus, having the Scallop Cove within walking distance was really nice - we were able to walk over for the occasional needed item or an ice cream cone.



07/01/2016
Exactly what I wanted....

I had never been to Cape San Blas before and it was exactly what I was looking for. I really wanted to rent a beach house at a place that wasn't crowded with condos and strip malls and that is certainly the case here. The house itself is well-furnished and I can't think of anything that we were lacking. Furthermore, it was very clean. Really enjoyed sitting in the chairs on the upper deck and watching the sunsets. The beach itself was not overly crowded and we spent multiple days simply relaxing there. The outdoor shower is a great touch that keeps you from tracking beach sand into the house. We cooked ourselves most of the week but we had very good meals at the Sandy Bucket and Provisions (in PSJ). We also ate at Coneheads during the Tropical Storm which was an experience (food was good, roofing not so much). Bottom line, my family had a very good time and our guests loved it. As for the arrangements with Teresa both in booking the property and then on arrival, it was easy. Would definitely recommend and will likely book again.

Bob, Thank you for your wonderful review! I'm glad you had a great week despite it starting off with the TS. I am so glad that your family enjoyed McCosh. I look forward to hearing from you in the future. -Terri

06/01/2016
Very Nice Time!

We had a wonderful time here. Teresa was wonderful to work with. I called and let her know what I was looking for and she delivered. This place was perfect. I've been coming to the Cape since I was a teenager. It has changed some. Keep it like it is, please! Love that we can still find a place for families and not be so over crowded. Only thing I didn't like was the steps are tiled. Coming in with wet feet from the beach or pool. I have twin four year old boys and this was a concern for me. May not be for others. Other than that there were no complaints. My husband caught lots of fish and even a baby shark while fishing. We will be back! Thank you again, Teresa for sharing this lovely home with our family!

Keri, I'm happy to hear you all had a wonderful vacation and had good luck fishing! The stairs are hard to get used to, but I find once I get to the upper deck it's well worth the climb for the view. I hope to hear from you in the future! -Terri

05/01/2016
Perfect week with some rain

McCosh is an excellent property. It is very thoughtfully designed and furnished. Clean and well-appointed, very nice kitchen with an ample stock of dishes and cooking utensils. The views are amazing. We really lucked out as houses on either side for at least 2 down on either side were not occupied. The 3 houses on the other side of the pool area were also empty. Sometimes we felt as if we had a private beach. The boardwalk to the beach is new and in good condition. The house has a charcoal grill and the store room has chairs and toys, although I understand these can change. We made good use of the outside hose and shower to wash our beach shoes and dog leash. Like the entry way bench as a place to leave the dog leash and beach sandals. The bedrooms are on the second floor. King bed in master BR is very comfortable. Good closet and dresser space. Master bath and hallway bath are all new and very functional. On the way up to the living room/kitchen level is a small deck facing the community pool and the bay. The main level is one of the best I have stayed at. Very open, comfortable, and tastefully done. My husband took a liking to the red lantern! Love the windows facing the Gulf and also windows in kitchen and over open stairs that face the Bay. I found the high captain chairs on the decks a treat, since I could see over the railings! Has a powder room on this main level. The internet and cell phone service work well, which is not always the case on CSB. Great spot on the beach for watching the daily dolphin parade. They came so close to the beach! We ate at Sandy Bucket twice and at the Indian Pass Raw Bar. Great shrimp at both. Wonderful quality BBQ at Sandy Bucket, better quality meat than at my favorite BBQ places in Birmingham. Live music at the Raw Bar. Just a fun place, even in the rain. The Trading Post has everything you need and the Hunt Brothers pizzas are actually a good thin crust pizza. Visit the State Park for sure. The shops on Reid Avenue in Port St. Joe are fun to go through. Theresa has a very nice book in house that describes restaurants and things to do in the area. There are also magazines, crossword puzzle books, and some games. There are multiple TVs (although we only turned it on once). Seems the cable channels differ on each of the TVs, so this was a little confusing, but we found what we wanted to watch. This is one of my very favorite places to stay. Theresa was easy and pleasant to work with.

Thank you so much for your very detailed and helpful reviews. Wow! It sounds like you all had a fantastic vacation at McCosh. We try our best to provide comfortable, clean, and well maintained and stocked homes. I have also always enjoyed that lantern! I appreciate your comments our our binders as those took me personally a lot of time to put together and update. I'm very curious about the cable channels now though as that's very strange. I also enjoyed your comments on the restaurants around the area. I know your review will help many people find that McCosh and Cape San Blas are the right choices for their families. Thank you! -Terri

04/01/2016
Very Nice Place

This was probably the cleanest and well decorated property we've ever rented on VRBO. My wife, the dog, and I really enjoyed McCosh. It was our second time to CSB so we knew the pros and cons of the area. There isn't much to do on CSB which forces you to enjoy the beautiful beach and relax to the sound of the ocean. The only bar/restaurant on CSB is ConeHeads. During our visit they were closed for renovations. Who renovates at the peak of spring break? This property is a short walk to Scallop Cove, a convenience store/gas station. That's also where you can rent darn near anything you didn't bring i.e bikes, beach chairs, umbrellas and so much more. You will want to do your grocery shopping in Port St. Joe at the Piggly Wiggly. While the house is stocked with all of the utensils, dishes, and small appliances there are no spices, tin foil, paper plates, storage baggies etc. Our rental company did a good job of letting you know what to bring. If you forget something or you are not in the mood for what you bought, you can buy many grocery items at the Trading Post or scallop cove. Both have a surprisingly broad selection and the prices are really not that bad. I would caution people/pets who are not able to do stairs about this house. The kitchen and main living area are on the top floor and there are A LOT of stairs. At age 50 our calf and thigh muscles got a work out. The reward for doing all of the stairs is you get incredible views from every room in the house. We would definitely stay here again and we would recommend it to others.

Joe, I'm so glad you enjoyed your stay at McCosh! We do try to provide people with well maintained and decorated homes and are glad that you appreciate the same. I also enjoy the personal notes about other businesses in the area as people are always curious about such things. We hope you come back and visit for another stair climb and incredible views. Thank you! -Terri

03/01/2016
A very special place

We enjoyed every aspect of this beautiful home: the cleanliness, the quiet location, the views from every window and porch, the comfortable furnishings, the sound of the waves, the way the sun played upon the water....even the stairs in this 'upside down' house. Everything worked, the house was fresh, with very well stocked kitchen, nice modern bathrooms. This is not a house that shows any wear and tear from heavy beach use and long exposure to salt air. Loved Antonio's on the Bay for romantic and delicious sunset dinners (twice!) and the Sandbucket down the road for lunchtime bbq. Discovered the Donut Man late in our visit or would have gained 10 pounds-delicious. We highly recommend Cape San Blas for a quiet, get-away from it all week, and the McCosh house for a worry free, easy home away from home. Thank you, Terri and Teresa, for a perfect week. We hope to return again and again!

Judith, Thank you so much for this wonderful review! We are so glad you had a great vacation at McCosh. We look forward to hearing from you in the future!

02/01/2016
Mccosh Beach
Have stayed at the Cape many times and this is the first house we have repeated a stay. Love the location, the easy access to the pool, the easy access to the beach and the house is very nice and comfortable. We also love working with Teresa and Terri. They really take the time to answer any questions and I love how their price is all inclusive. I refuse to believe ok with a company now who has a booking price plus four or five extra fees. I also think Teresa's Besch Homes have the best prices.
11/04/2017
Had a Great Time
Stayed a week from 4/21/2018. Perfect place - clean, roomy, breezy, beautiful view, white sand beach, bike rental across the road, terrific location for starting local explorations, close enough to PSJ for shopping, house hunting etc. Lovely area. Found a great Realtor Eli Duarte at Coastal Realty Group just down the road. If only the fish liked our bait better...
04/21/2018
Wonderful gulf front home
We were skeptical about coming after the hurricane in October, not knowing what kind of condition this home would be, what if any restaurants would be open etc. We were so happy with McCosh Beach Home, the views were awesome, inside had everything beyond our expectations, and we were able to bring our small dogs. We also had plenty of options for eating out even though we enjoyed staying in for our evening meals so we wouldn't miss those amazing sunsets. We were there January and February. I certainly enjoyed the pool, relaxing and reading and the privacy fence blocked the wind on those cooler days. Can't say enough about the beach, my husband surf fished and we had several delicious meals from the whiting he caught. We were able to see the sunrises from the street side of the house and breathtaking sunsets from the gulf side. Well, needless to say, we are booked again for January and February 2020. Hope you enjoy this home as much as we did.
01/05/2019
Relaxing Stay!
Once again, we had a wonderful time in Cape San Blas. We have rented with Teresa's Beach homes before but this was our first stay at McCosh. McCosh is a very beautiful, well appointed home directly on the beach with striking views from the front facing the gulf side and the back facing the pool area and the bay. The large windows & back deck offered us the morning sunrises while the front of the house has spectacular views of the gulf and huge decks on each level to relax on to watch the incredible sunsets ( Cape sunsets are AMAZING).. The home is spacious, updated, organized, clean and very open. The kitchen arrangement was perfect and we very much enjoyed cooking dinner every night and then retreating to the deck to watch the sun go down. I also want to note that the floor plan was nice. The 2nd level actually has the bedrooms whereas the 3rd level is the main living area with the living room and kitchen so you can have the best views from the upper deck. Myself, my husband and our two dogs enjoyed this home and the wonderful service that Teresas Beach Homes offers very much. Thank you!
03/09/2019
So happy we did this...
We returned to this little piece of heaven the first week of March, a little nervous about what we might find. We have stayed at McCosh several times and love the location on the Cape, the cozy circle of 6 homes sharing a pool, the immediate beach access and of course, the home itself. With just the two of us and our beach-loving dog being able to step outside, walk 10 feet and be on sand is just about the most perfect situation imaginable. The house is kept to immaculate standards, has everything we need for a week (or a month) and plenty of space to spread out and relax. The decks are spacious with magical views of the gulf from one side, the bay from the other. Aside from minor paint bruises, McCosh escaped serious damage from Michael. The view from the ground is quite changed because the dune is gone (for now) and you can see the water directly from the parking area under the house. Mother Nature will fix that in her own time but meanwhile there is something spectacular and oh, so special about that wide open vista.
03/02/2019
We will be back
Beautiful home. Well furnished. convenient location. Easy access to Scallop Cove c-store and bait shop. Couldn't ask for more.
04/06/2019
Great house
My family and I loved McCosh. The teenagers enjoyed the pool and being close to the store. They went daily and got an ice cream. The house was very clean and the views from the covered decks was spectacular. We will definitely be going back to this house,
04/01/2017
Love me "my" cape
This is our third or fourth time staying at McCosh. I love the location, being across the street from Scallop Cove, we can walk if we need food or bait, etc. The house is very comfortable and the views are amazing! Although it was sad to see what Michael did to the dunes, it sure was an easy walk to the beach. I have been coming to the cape for at least ten years and I always rent from Teresa and Terri. They are very knowledgeable and their service is excellent! I love that they require a smaller down payment when booking and that their prices are all inclusive. Very irritating when some companies charge a bedding fee, a cleaning fee, etc. And I think they're prices might actually be less than the other rental companies for comparable houses (hope they don't notice that comment
05/04/2019
Saved our vacation!
McCosh is a lovely house in a great location. Terri, the property manager, reached out to me after seeing that my vacation rental cancelled on me at the very last minute due to not having repairs completed post-hurricane and we are so glad that she did! There are two large and very spacious decks from which to enjoy views of the gulf. The home itself is right on the water and it was just a few steps from our door to our spot on the sand. One of the things I loved about the house was the half bath on the ground floor level. It made trips to the bathroom from the beach quick and easy. The kids really enjoyed the pool and I appreciated the fact that I could see the pool from my kitchen window and the deck on the rear of the house that actually overlooked the pool. The back deck was also a great spot to watch the sunrise over the bay in the mornings. Large windows and lots of glass doors let in lots of natural light as well as the spectacular views. The mattresses are brand new and very firm. We brought memory foam toppers from home because we like softer beds. One thing to note is that there are quite a few stairs and they are tiled. Just something to keep in mind if you're traveling companion has mobility issues. Overall we loved the house and would recommend it wholeheartedly!
06/08/2019
Perfect Beach Location!
McCosh is in a fantastic location. It is steps away from the beach! You can easily move from the beach to the house with ease. This is perfect for travelling with families. The decks are terrific, lending unparalleled sunset views. I recall grilling one evening on the provided charcoal grill. I am grilling fresh fish from the St. Joe Shrimp company(less than a mile away), with a direct view steps away of crashing waves, thinking this is as good as it gets. Teresa's Beach Homes is perhaps the best rental company I have ever utilized. Terri and Teresa know the area better than anyone. They give fantastic service and even better advice. I would tell you that I would not hesitate to do business with them again. The house is terrific, very nice furnishings and a great floor plan. The house is top shelf, location is even better and with Terri and Teresa to work with, I don't think there is any reason that you would not have the best vacation ever!
06/29/2019
Wonderful week at McCosh!
This was our 4th time staying on Cape San Blas and our second time at McCosh. We absolutely love McCosh!! Staying here we have a front seat view every evening for sunsets and in the morning you can sit on the back deck for sunrises. The pool is only a few steps away and also Scallop Cove is only a short walk. It's perfect and we couldn't imagine staying anywhere else! We were so sad when hurricane Michael hit and our trip got canceled last year but we couldn't wait to get there this year. The Cape and the surrounding areas are still as beautiful as before. We can't wait to book our next trip.
08/03/2019
Great House!
Our family stayed for 1 week at McCosh Beach House and it was wonderful. The ocean views from the decks were awesome (as were the deck chairs). The entire home was very clean and well stocked. The kitchen was great and had plenty of pots, pans, dishes, utensils, etc., etc., etc.......The Trading Post down the road had a little bit of everything you might need. Everyone on the cape was super friendly to us and our dogs. The only complaint would be the biting flies that came by for a visit. The guys at the General Store said to buy the Australian Gold Spray Gel Bronzer - crazy, but it worked - all was well. Oh yeah - the beach was beautiful.
09/07/2019
Great Vacation!
We had a really great time at McCosh house! It was just what we were looking for giving us respite from the effects of Hurricane Michael in our home area. The view was gorgeous and enjoyed the time walking on the beach with our beloved dog,
09/21/2019
Emerald Isle
We enjoyed our stay at Emerald Isle. The home was lovely, the pool was nice. There is still some construction going on in the area due to hurricane Michael, but we had a wonderful time. The beaches on Cape San Blas are breath taking, beautiful white sand. We enjoyed the sunsets from the balcony of the home. We were able to attend an opening of a sea turtle nest. The kids were very excited to see that. The kitchen was well stocked. We toured the light houses in the area and went out to the state park one day were there were many shells to be had. We would recommend this home.
09/21/2019
Beach front, great view, all you need,
We stayed over fall break in October. The home was clean and well kept. Views from both porches facing the gulf were wonderful. Sunrise from the kitchen window or small back deck. Just steps till your toes are in the sand from the house. We needed to lock the toy closet outside to store bikes and Teresa was quickly on top of having someone come to rekey us a lock. There are A LOT of stairs that is probably my only real complaint, however we knew that going in. The kitchen had everything you needed. The house has a community pool in case you need a break from the sand. Quick walk to Scallop cove or Trading post stores and 5 minute drive to the State Park. We were there during the beach renourishment and the beach is just as beautiful as before the hurricane.
09/07/2019
Bedroom Setup
1 Queen Bed
1 King Bed
2 Bunk Beds
Dining Room
Dining Table
Eat in Counter
Eat in Kitchen
Barbecue - Grills
Private Charcoal Grill
Charcoal Grill
Bathroom
Bathtub
Linens & Towels
Private Bathroom
Shower/Tub Combo
Bedroom Extras
Private Bathroom
Walk-in Closet
Alarm Clock
Cooling Comfort
Ceiling Fans
Central Air Conditioning
Entertainment
Big Screen TV
Boating
Cable TV
DVD Player
Fishing
Golf
Kayaking
Swimming
Television
Smart T.V.
General
Linens Included
Pets On Request
Pet Friendly
Smoking outside only
Telephone
Vacuum
Home
High Chairs
Managed by Property Manager
Home Office
High Speed Internet Access
Wireless Internet Access
Kitchen
Washer/Dryer
Blender
Breakfast Bar
Can Opener
Coffee Maker
Dishes
Dishwasher
Disposal
Fully Equipped Kitchen
Garbage Compactor
Gourmet Kitchen
Ice Maker
Ironing Board
Microwave
Mixer
Oven
Pots and Pans
Refrigerator
Stove
Toaster
Utensils
Water Filter
Crock Pot
Keurig
Outside Living
Community Pool
Deck
Outside Shower
Patio
Porch
Porch Furniture
Private Parking
Restaurants
Water Park & Wildlife Viewing
Gulf/Ocean View
Gulf/Ocean Front
Balcony
View (Water)
Waterfront
Beachfront
Parking
Covered
Driveway
Parking for 4 cars
RV Parking Nearby
Boating
Boat Rental Available
Marina